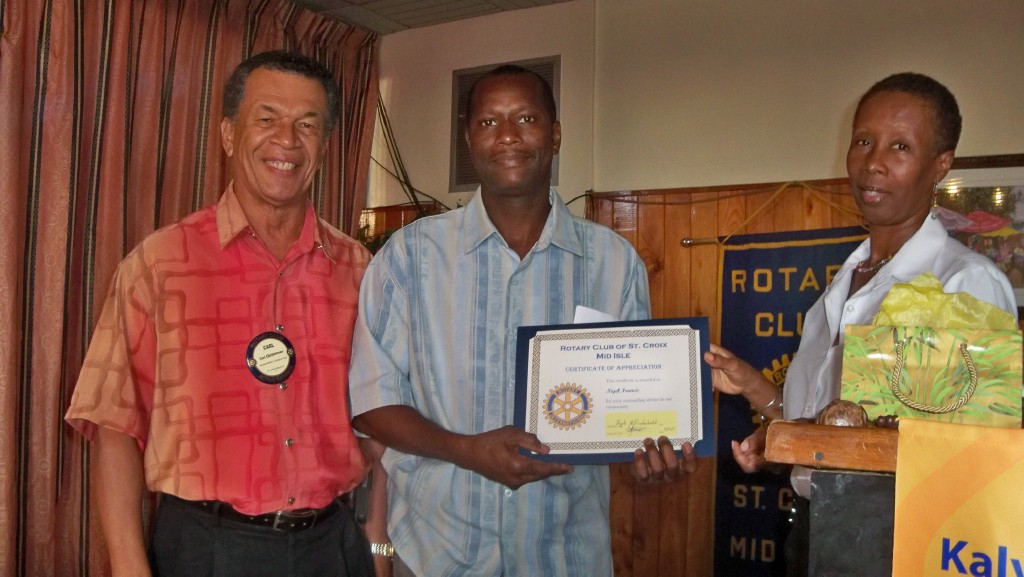 The Rotary Club of St. Croix Mid-Isle honored six local individuals for their outstanding service to the community in a wide range of service areas and occupations from waitressing to auto mechanics. The Rotarians' motto is service above self, so they know what good service is all about.
Each month Rotarians have a theme, and October is designated Vocational Services month during which they recognize the worthiness of all useful occupations in the community, be it white collar or blue collar.
Dorcas Guadalupe, the receptionist at Dr. Walter Gardiner's office, couldn't believe she was being recognized for doing what comes naturally. "It was like 'Wow,'" Guadalupe said. "They actually chose me. I have never been honored as an adult. If I am assisting someone, I just try to do a little more for them." Dr. Gardiner, a guest at the breakfast meeting at Gertrude's Restaurant, said Guadalupe was the best hire he ever made. "She works very hard and is very dependable."
Rotarians and guests also recognized Robespierre Bell, the manager of the Welco gas station across from D.C. Canegata Ball Park in Christiansted. Rotarian Sweeny Toussaint said Bell has been committed to making Welco the best gas station on the island for the past 25 years.
Horace Graham Jr., from the Department of Licensing and Consumer Affairs, was also recognized. "I was shocked and pleasantly surprised to be recognized. It is a good feeling," Graham said. "My goal has always been to ensure that the business community always receives the very best service."
Jennifer Murray, a waitress at No Bones Cafe in Gallows Bay, was honored but was not able to attend the ceremony, in which honorees got a certificate and a small gift bag that included a packet of flower seeds. Her boss, leery about being identified, because of the murders very close to the restaurant yesterday said she is a fantastic waitress who is very good with children.
"More often than not there is a focus on the negative," Nigel Francis, honoree and owner of Skyline Car Rental in Kingshill, said. "This is a positive thing honoring people for giving service. It is wonderful." Rotarian Carl Christensen said Francis does excellent mechanical work in a timely manner and provides good customer service.
Award recipient Gloryvee Christian-Krieger, departmental cost accountant at Gov. Juan F. Luis Hospital, said she works with vendors and suppliers to make sure the patients have the products and services they need to have the best possible care at Luis Hospital.
Christensen said it is nice to see people making a difference in the community through service.
On Nov. 12 the club will be recognizing the Rotarian of the year at a black-tie affair at Reminisce.