While local athletic programs generally put the focus on baseball, basketball and football, St. Thomas Montessori School and International Academy switched it up a little Tuesday with a visit from England's three-time defending girls indoor cricket champs.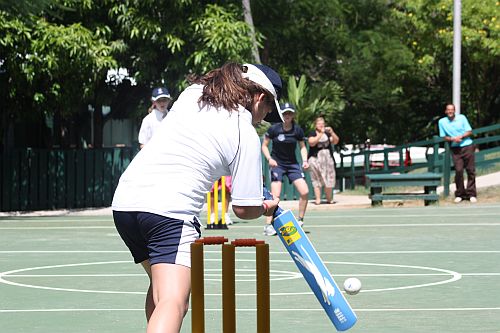 The U-16 team from Ilkely Grammar School in Northern England has won the national finals in girls' indoor cricket for the past three years, and visited Montessori Tuesday while on a cruise through the Caribbean. The trip is the girls' reward for their hard work, coach Andrew Jennings said Tuesday.
"We're here to promote cricket and also to celebrate the girls' amazing achievement," Jennings said. He explained that his girls have to compete in a conference with about 800 other school teams that first play regionally, then nationally. Jennings said the sport is "really developing" in the United Kingdom and across the world, and while it may never gain the same notoriety as soccer, it still has a huge following from its loyal fans.
"It's definitely the fastest growing sport in the UK," Jennings said. He explained that while a normal cricket game is spread out over five days, cricket officials are trying to re-format to maintain the attention of the fans and draw in new spectators.
Jennings said another bonus is that anyone can play cricket, which is also making the sport more popular within schools.
"The girls seem to enjoy it, and they work really hard," Jennings said. "They're good, very good, actually, and can probably give most boys a run for their money."
Montessori's Director Shournagh McWeeney said the team was contacted by David Jenkins, co-director of the International Academy, and invited to put on an exhibition game.
"We're really happy to have the team here," McWeeney said. "They are introducing our children to a sport they are really not familiar with. Even though there is some cricket on the island, it's really not the norm, and it is also a lovely opportunity to meet students from other countries."
St. Thomas is the second stop on the team's tour, and the girls spent Tuesday morning sightseeing around the island.
"It's been great, really amazing," said team member Natasha Sunderland, who said she also plays soccer, but prefers cricket because it is different than the other sports.
"The island is very beautiful, and everything is so different than England," she said. "We are having a wonderful time."