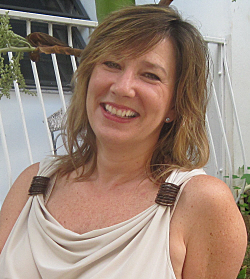 With a dance education and a love of the arts, Kim Wild found her niche at the St. John School of the Arts.
"I feel really privileged and honored to be part of the community in this way," she said.
Wild started working in various capacities at the School of the Arts shortly after she moved to St. John in 1998. Her title changed over the years, but she said with a laugh that the job was still the same. When founder Sis Frank retired in 2006, she became the assistant director under Jan Kinder. Kinder left St. John in June for Florida and Wild took over her job with the title of acting director.
"It's still all those jobs rolled into one," she said.
With one person on the staff, Kazumi Schaub, and 17 part-time instructors, Wild has a lot to oversee. The school's programs serve about 300 students who participate in arts programs at the school's main building located on the street behind Julius E. Sprauve School, at a satellite facility in the Lumberyard Shopping Complex and at programs held at Guy Benjamin School and Gifft Hill School. Wild said she's working with Montessori School to develop a School of the Arts program there.
Wild sees that the school's programs provide a creative outlet for St. John youths.
"It provides self expression and boosts confidence," she said. While funding is always an issue, she's filled with plans to expand programs. The latest is a program called 21st Century Mentoring for Music. Wild anticipated that about eight students will qualify to play in a performing band with another 20 taking music lessons.
An Albany, Ga., native, Wild, 48, comes to the job with a bachelor's degree in dance from Columbia College in South Carolina and a master of fine arts degree in dance from Florida State University. She worked as dance director at the Colquitt County (Georgia) Arts Center.
In 1995, she and her husband, V.I. National Park archeologist Ken Wild, moved to Puerto Rico for his job. Daughter Emily, now 13, was born there. When her husband got a transfer to St. John, the family moved with him.
It's a busy life. Emily has a tutor for her home schooling but Wild and her husband put in lots of time with Emily's activities.
"But I do try to hike some," she said.
Wild still teaches dance at the school and she said she dances around the house for exercise.
As for what's ahead, she said she plans to stay on St. John as long as her husband is at the park. If he's transferred or goes elsewhere, of course, she'll go with him. It won't mean the end of the School of the Arts.
"We have plenty of instructors and people who love the school and want to see it continue," she said.