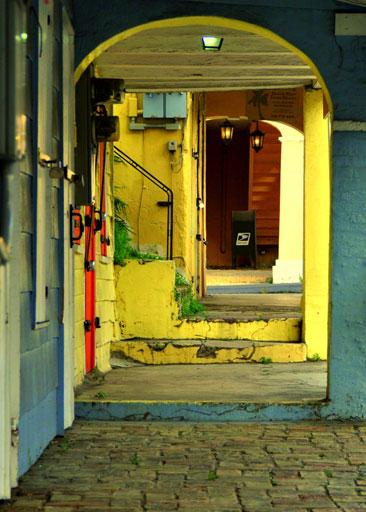 A St. Croix development company named Christiansted Renewal Group promises to revitalize the town while promoting a bill giving itself major tax breaks and the right to build a stand-alone casino – and Casino Control Commission Chairwoman Gizette Thomas has doubts about the plan.
Christiansted Renewal Group LLC. will pay for a casino but will not actually be doing any revitalizing — or paying for any. Instead they propose that the government allocate casino taxes from their project to revitalization, and improve the town's infrastructure by selling Tax Increment Financing bonds. These would be secured by hoped-for increased property taxes from property values increased by the improvements.
"It appears there is a lot of benefit to the licensee and a lot of responsibility to the government," Thomas summarized, when asked about the proposal Friday.
The company aims to build a casino and conference center, a parking garage and a whole lot of lights and security renovations, according to attorney Donovan Hamm, one of the investors in the casino development limited liability company operating under the name Christiansted Renewal Group. St. Croix real estate developer Duane Bobeck is the other principal.
The company has been making the rounds of St. Croix rotary clubs and merchant associations promoting the concept and has begun airing television ads in support of its plan and its proposed new legislation. Last week, Hamm and the company's public relations advisor Janet Dembeck unveiled a video in documentary-style format, in which store owners were interviewed at length about the current state of eroding buildings and increased crime in Christiansted. The video shows vacant dilapidated buildings and gives an overview of what they believe their proposals could do to boost the economy by revitalizing the entire city.
In the video and a glossy promotional pamphlet, the company speaks of building a casino, a conference center and a 600-space pay parking garage. They also speak of revitalizing the city by improving lighting and security, as well as an extended boardwalk to Gallows Bay, and improvements to hotels, restaurants, and retail businesses in the area.
The company is committed to spending $20 million "to construct the casino," but "(f)unding for the remainder of the redevelopment effort will come from a combination of TIF bonds and other government assisted financing sources or bonding," according to its promotional pamphlet.
Reached by phone Thursday, Hamm described his company's proposal as a single large package that only works if all the parts are done at once. As he explained it, the stand-alone casino would increase foot traffic in Christiansted, making the town more active, reducing crime and increasing business to the nearby hotels, restaurants and shops. But the casino needs a nice town in order to draw in customers itself.
"We are not interested in just having a casino; we also need to have the town revitalized," Hamm said. The bill before the senate now is a first step, he said. "There will have to be a series of at least three bills. The second part is a TIF bond proposal," he said.
Hamm said the project would not succeed if it did not also involve trying to secure tax increment financing, or TIF bonds, to revitalize the city by improving lighting and security. The cameras would be purchased and installed by the V.I. government, with TIF financing secured by taxes on the entire town, he said.
"It is a sort of hand-in-glove thing. Fixing downtown doesn't make sense unless we can be sure more business comes in. … The neighborhood won't be fixed up unless there is some draw, so that you have fundamentally changed the number of people who will be coming downtown," he said. "The casino was the best thing we could think of" for that, he said.
Hamm envisions the casino and conference center would also serve as hubs, with The Christiansted Renewal Group LLC overseeing security for the whole town, helping to coordinate large events with hotels and restaurants, and providing services like laundry, which individual hotels may find difficult.
Taken together, the casino, improvements to the town and coordination of services should make Christiansted a more desirable place to visit, bringing in more visitors and more revenue, Hamm said.
Along with carving out a customized exemption from V.I. Casino Control Act's requirement that casinos only be licensed as part of new hotel development, the bill before the Senate right now says "licensees shall not be required to pay any other taxes and fees on any income derived from the operation of the casino, or the rental of property to the operator of the casino."
This means the Christiansted Renewal Group development company can rent out the entire operation to a management company, then keep the rental income tax free. The bill also puts the new casino inside the Christiansted Enterprise Zone, which would enable the company to have those tax benefits, including a tax credit equal to the increase in property taxes as a result of building the casino on vacant land.
Offsetting these large tax breaks, the bill adds four percent to the company's casino revenue taxes, increasing them from a maximum of 12 percent after four years to 16 percent of gambling revenue.
Under existing law, casino revenue taxes are divided between an array of government departments. But under the company's proposed legislation, tax revenues from this particular casino would instead be placed in a special fund, with three-quarters set aside as collateral for Economic Development Authority loans to hotels and restaurants. One quarter would be devoted to maintaining new streetlights and cameras.
While presented as a part of The Christiansted Renewal Group's company plans, these would be government programs paid for out of tax revenues. If it chose, the Legislature could reallocate existing casino revenues or any other tax revenues to serve these same government programs.
For Thomas, the company's proposed improvements are too vague and too distant from anything the company itself will be doing to justify letting one company build a casino without the requirement imposed on any other builder to making the major investment of building a hotel.
The company's notion of bringing all the hotels together to coordinate services and improving existing hotel rooms that may feed the casino has merit, Thomas said. "Conceptually I think it is great … but I beg to differ on whether that would bring in revenue," she said. "If the intent is to increase our tourism product and bring in new revenue and not rely on local revenue, we do need more hotel rooms. Without more hotels, we may find we are taking revenue away from the existing casino and just diverting the taxes previously used to support various government services and putting them instead into loans and for security cameras and lights downtown."
Thomas said she is also not convinced anyone will book a large group at the convention center if they have to plan to transport the guests back and forth from hotels in town and potentially as far away as The Buccanneer, or that the rooms that do exist are good enough.
"The reality is the downtown rooms are not of the standard, if you will, to feed a convention center," Thomas said.
But her greatest concern is that the renovations are not really being proposed for The Christiansted Renewal Group, but for the government. For instance, the parking lot being proposed "is not the casino's own property or its responsibility to build," she said. The company's plan "just says the government should do it. They are not required to do it themselves."
The Christiansted Renewal Group's proposal is similar in some ways to a proposal the Legislature rejected in 2008 from St. Croix resident John Boyd. Boyd's plan also called for a free-standing casino in Christiansted — but his would have been near Gallows Bay, while the current proposal is for a site near Seaborne Airlines, on the other end of the Christiansted boardwalk.
While the current proposal sweetens its request for unique tax breaks and a special legal status with calls for TIF financing and tax set-asides for improvements to the town, Boyd sweetened his request for a special status as a stand-alone casino by requiring 50 percent of net profits go to "community reinvestment," and another 10 percent to charitable contributions. He also proposed incorporating a number of small stalls for "local restaurants" and stores.