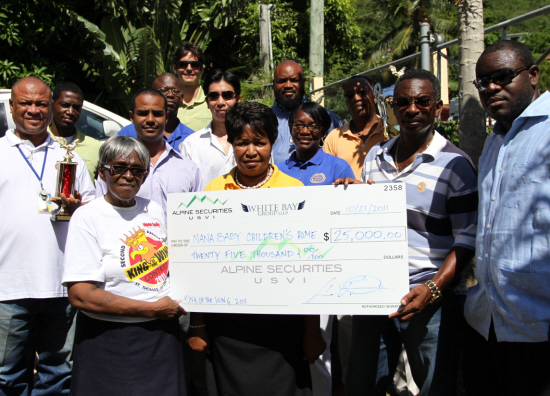 Thanks to this year's wildly successful King of the Wing cooking contest, the Nana Baby Children's Home in Estate Tutu gratefully accepted a $25,000 donation on Friday.
Representatives from Alpine Securities USVI and the White Bay Group handed over the check to Nana Baby, which provides displaced children with temporary foster care, stability and love.
"It is going to help us with taking care of the needs of the children," said the nonprofit's director, Beulah Wilson. "It will help with the mortgage, and with their school expenses."
The two East End financial firms that presented the donation sponsored the second annual King of the Wing Contest, which nearly tripled in size from its first year. Twenty-six teams participated in the Sept. 24 cook-off, and more than 1,500 people came out to eat, drink and socialize.
The gift to Nana Baby Children's Home also nearly tripled from last year's donation of $8,771.
Wilson said that in 2010, she and her staff served nearly 50 children, all of whom were referred to them by the V.I. Department of Health and Human Services. In that same year, the organization's total operating budget was around $300,000 – so Friday's $25,000 donation is a significant boost, Wilson said.
"It will help stop up any holes that we have," Wilson said, adding that she wanted to thank the entire community for its continued support.
Folks from the King of the Wing's top cooking teams – including the first-place winner Construction Cookers, second-place finisher V.I. Water and Power Authority and third-place team Glacial Energy – applauded the donation and toured the foster home.
"Who knew that cooking wings could help in the lives of these kids?" Construction Cookers chef Marvin Vaughn, whose wing recipes wowed contest judges and the public, said in a prepared statement. "It's wonderful to be a part of this."
For more information about donating to Nana Baby Children's Home, call Wilson at 775-0044.