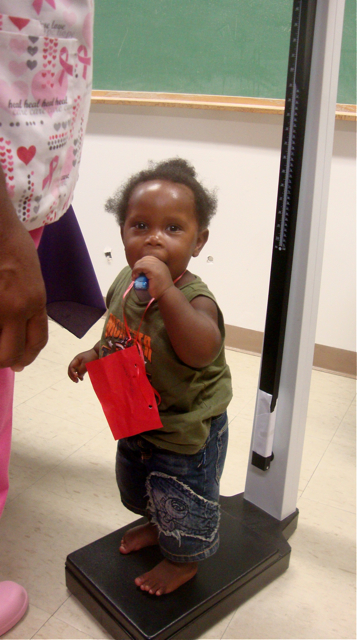 The first Children's Health and Wellness Fair was a one-stop destination Friday for 52 children who had a complete health assessment in a single location – the Great Hall of the University of the Virgin Island's St. Croix campus.
"We were very busy," said Ellie Hirsh, who helped organize the first-time event. Hirsh, director of Family Connection at the Community Foundation of the Virgin Islands, said parts of the event went better than they'd expected, and a few details will be improved on for next time.
The health fair brought together pediatric medical services, including dental and vision screening and checks for immunization needs. The Department of Education's Special Education Program assessed kids' developmental level. There were even flu shots for the children.
That was the last station in the series, Hirsh said, and for a reason. After getting a flu shot, most kids were not interested in cooperating any more.
A second Children's Health and Wellness Fair will be held on St. Thomas beginning at 9 a.m. at the Human Services Head Start Complex in Sugar Estate.
One of the things that worked best, Hirsh said, was having volunteer guides escort parents and children through the labyrinth of the health fair. Stations were scattered across the Great Hall and an adjoining building, and parents may simply have missed some of them without help, Hirsh said.
On the other hand, she said, the staff will rethink the way the stations are laid out so that the path is simpler.
Having all the services together in one room, along with displays by about a dozen agencies involved in child development, gave parents a single place they could go
one time for all their children's health needs, rather than driving to different offices whenever they could get appointments. The result is a savings of time ad money, Hirsh said.
One other, who brought to children to the event, agreed.
"I didn't have to take time off work," said the mother, who declined to give her name.
Along with the health care practitioners, first lady Cecile deJongh was on hand to offer a welcome to the families at the start of the day.
The events on the two islands are a partnership between the Early Childhood Advisory Committee of the Governor's Children and Families Council and a host of non-profit and government agencies including the Departments of Human Services, Health and Education, Frederiksted Health Care, Inc., St. Thomas East End Medical Center Corp., the Family Connection of the Community Foundation of the Virgin Islands, UVI, Lutheran Social Services of the Virgin Islands and Virgin Islands Perinatal Inc.