Celebrity chef Orlando Santos, the St. Croix-born chef who was a recent contestant on Bravo TV's reality show "Top Chef: Just Desserts," will return to the island in December to take a featured role in two fundraisers for Crucian Heritage and Nature Tourism, known as CHANT.

By telephone Saturday, Santos said he was excited about the chance to come home and be part of the events. A graduate of the St. Croix Educational Complex culinary arts program, he said he is looking forward to meeting with the students in the program where he got his start, and helping show them that there is a world after high school.
His comments, phoned in from Pittsburgh's exclusive Duquesne Club, where he works, came during a press conference Saturday morning in the CHANT office in Frederiksted.
Two events will be held to raise funds for CHANT, said Frandelle Gerard, executive director of the group.
On Dec. 5, a private dinner will be held in a home in Cane Bay. Santos will prepare the six-course meal offering his contemporary takes on Crucian classics. The fundraiser will cost $1,000 a plate, with a maximum of 35 meals to be served.
On Dec. 9, local professional and amateur chefs will join with Santos to present "Crucian Fusion – Traditional Gone Gourmet," a food show at Fort Frederik, featuring local chefs preparing local cuisine in a whole new light with all the proceeds going to fund the organization's activities.
Tickets for the Crucian Fusion will be $50 a piece. Special early admittance tickets will be $75, and will go on sale Nov. 1.
Gerard said the event also needs local chefs who want to display their talents. The event will be held throughout the fort, and there's plenty of room for anyone who wants to take part. Participants will create 200 servings of a Crucian inspired dish.
Santos will be on hand with a Caribbean-inspired dessert, which will be available to the crowd.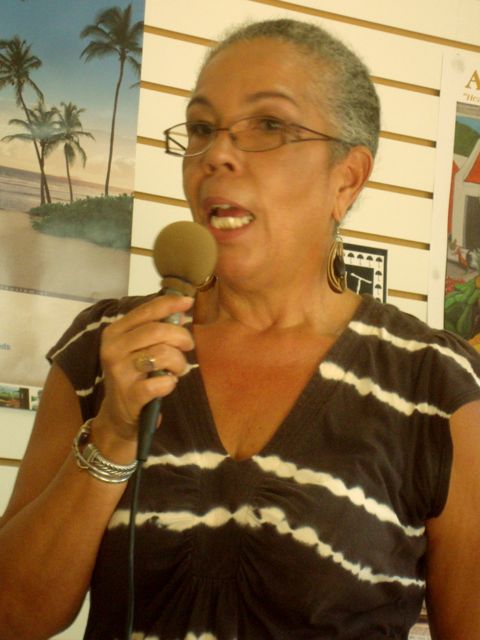 "The event plays to CHANT's strengths," Gerard said. "We promote the culture and the heritage of St. Croix, and food is a big part of that. We want them to take Crucian cuisine – and a lot of people think of that as comfort food – and take it to the next level," she said.
Cooks will also be asked to provide the recipe and their story, which will be collected into a cookbook, Gerard said.
For those who want to take part, or who want to attend, information is available at CHANT's office in the courtyard behind Polly's on the Pier in Frederiksted, or by calling 340-719-5455 or online at www.chantvi.org.