Dozens of V.I. Police Department officers will be able to communicate with members of the Hispanic community on St. Croix and St. Thomas thanks to an intensive three-day Spanish communications course provided by Public Agency Training Council.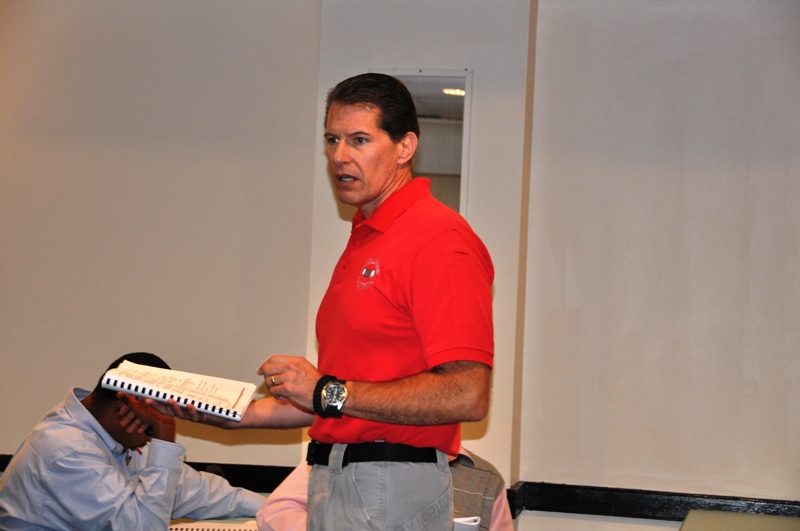 The "Introduction to Street Spanish for Officer Survival" began Wednesday on St. Croix at Divi Carina Bay Resort and Casino where officers of all different departments received roughly 24 hours of training in simple Spanish.
VIPD spokeswoman, Melody Rames, held a press conference Thursday to introduce instructor Kevan Dugan, who recently retired from the Pennsylvania State Police Department.
"When I started, I came on to work undercover," Dugan said. "I thought if I spoke Spanish it would help me get one of those positions."
Dugan explained in his slow Appalachian accent that he was a horrible student in high school. He went back to his Spanish teacher years later and asked her to teach him. After spending the summer with intensive lessons, he got the undercover job in 1982.
Dugan also was lucky to meet fellow cadets from Puerto Rico, who helped him practice until, eventually, he was completely fluent.
"It's been very advantageous within the department," Dugan said. "It's not only important for citizens, but it's important for officer safety."
The VIPD officers have enjoyed the class and told Dugan that the course has taught them a great deal. Several of the officers in the class grew up speaking Spanish, and Dugan said they told him the course was a good refresher.
"I think geographically, you're right in the middle because of your proximity to Puerto Rico and the Dominican Republic," Dugan said. "I can see the need for the training here and I was surprised it hadn't come up before."
The instruction manual Dugan gave the officers has translations and basic communications that could be used with anything from routine traffic stops to Miranda warnings and gang slang.
Dugan, who is tall, blond, and lanky, said from his experience teaching in the states, when people see him and hear his slow drawl they seem to be put at ease.
"If a guy like me from near West Virginia can learn Spanish, anybody can," he said.
Neil Amos, a national training coordinator from the Public Agency Training Council said they hire contractors to teach the classes, and usually teach anywhere from 12 to 15 classes a week. Classes vary from cellular phone forensics to a ten-day Spanish immersion class.
"The VIPD requested us – evidently they had some issues that needed being addressed here, so we were happy to provide the instruction," Amos said.
The class for VIPD officers on St. Thomas is scheduled to begin on Monday.