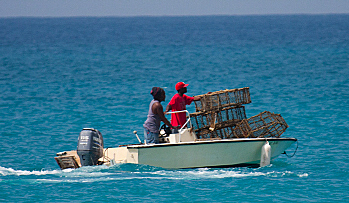 New annual catch limits for commercial fishing in federal waters are in the works, and the National Marine Fisheries Service wants input from local fishermen by Nov. 25.
Commercial fishing in and around U.S. Virgin Islands waters is a complicated issue with the territory having jurisdiction up to three miles offshore and the federal government beyond that up to 200 miles. After that, the waters are considered international.
It gets a little stickier between St. John and the nearby British Virgin Islands because they sit closer than three miles apart. In that case, the two territories split the 1.5-mile space between them, with the U.S. Virgin Islands waters extending three quarters of a mile off St. John.
It's also complicated when it comes to the western end of St. Thomas. Carlos Farchette, secretary of the Fisheries Advisory Committee on St. Croix and chairman of the Caribbean Fishery Management Council, said the U.S. Virgin Islands and Puerto Rico split the difference between St. Thomas and the Puerto Rican island of Culebra. The distance is about two miles, with the territory's waters running about a mile offshore.
"It's not as contentious," he said, referring to the boundary between the U.S. territory and the BVI.
In order to resolve overfishing in federal waters and to comply with the federal Magnuson-Stevens Fishery Conservation and Management Act, the National Marine Fisheries Service plans to set annual catch limits for some species and prohibit fishing of others. The limits include species considered to be overfished as well as those that haven't yet reached that threshold.
Catching midnight, blue and rainbow parrot fish will be prohibited, Roy Crabtree, the southeast region administrator for the National Oceanic and Atmospheric Administration, said from his St. Petersburg, Fla. office. St. Croix fisherman Eddie Schuster said he and his colleagues don't see any of those species of fish when they're out fishing.
"Once we start seeing some kinds of recovery, the council would come back and set catch limits," Crabtree said, referring to the Caribbean Fishery Management Council.
Schuster doesn't think the proposed regulations will meet much resistance from the territory's fishermen.
"At the beginning, it's going to be some economic impact, but it's for a brighter future for tomorrow," he said.
Farchette said fishermen from both St. Thomas and St. Croix worked on developing input for the regulations so he doesn't think it will difficult to get compliance.
The overfished species include queen conch, red and yellowtail snapper as well as hundreds of others, Crabtree said. He said those not overfished include species like spiny lobster and surgeon fish.
Establishing viable catch limits has been a long road. "We've worked on it for the last five or six years," Crabtree said.
The territory's fishermen and women began reporting their catches many years ago to provide data on which to base the catch limits. Crabtree said the catch limits will be set at about 15 percent, or in some cases, 10 percent, lower than the annual catches.
He said St. Thomas and St. John will be considered one district for catch limits and St. Croix another.
Farchette said he believes the territory will mirror the federal regulations when it comes to setting annual catch limits. However, local Fish and Wildlife Director Roy Pemberton said the territory will have to take into account economic and social impacts of these limits.
According to Crabtree, if the annual catch limits are exceeded, the federal government could shorten the fishing season in federal waters.
The territory already has numerous permanent and seasonal closures. According to Farchette, the Nassau and goliath group fisheries were closed years ago because they were overfished.
Pemberton said he would send a comprehensive list of local closures but he didn't and numerous phone calls throughout the week were not returned. In late September, local Fish and Wildlife said that taking of whelks is prohibited from April 1 through Sept. 30. Taking conch is not allowed from July 1 through Oct. 31. The conch quota for all three islands stands at 50,000 pounds a year.
The National Marine Fisheries includes fish caught in both local and federal waters in its fish counts. Crabtree said it does this because there's no way of knowing where the fish were caught.
The Magnuson-Stevens Act is the primary law governing fisheries throughout the United States and its territories. The law is named after Warren G. Magnuson, former U.S. senator from Washington state, and Ted Stevens, the former senator from Alaska. It was enacted in 1976. The law established eight regional councils including the Caribbean Fishery Management Council, which includes both Puerto Rico and the U.S. Virgin Islands.
The act has been amended several times. The catch limits will be included in upcoming amendments. Farchette said catch limits on recreational fishing will also be established.
To comment on the proposed regulations, send to www.regulations.gov. Enter NOAA-NMFS-2010-0028 in the keyword search and click on search. They can be mailed to Maria Lopez, NOAA Fisheries Service, Southeast Regional Office, Sustainable Fisheries Division, 263 13th Avenue South, St. Petersburg, FL 33701.
For information on federal Fish and Wildlife's proposed amendments to the Magnuson-Stevens act as well as more information, visit the following web pages: