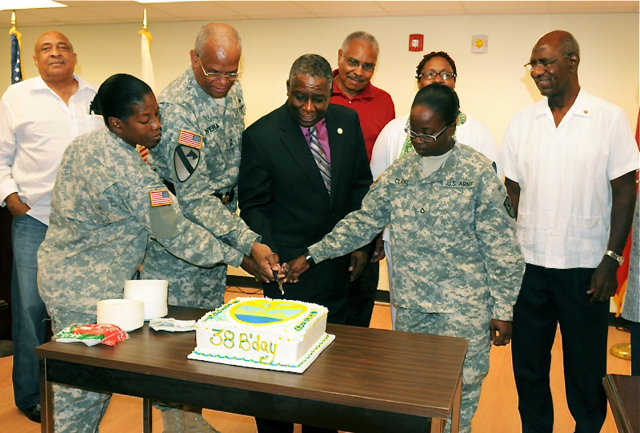 The V.I. Army National Guard celebrated 38 years of existence while simultaneously hosting former senior army advisors to the territory Wednesday at the Lieutenant Colonel Lionel Jackson Readiness Center in Estate Bethlehem.
The VING received its federal recognition Oct. 19, 1973, and since its inception it has grown from two units of 113 people, to more than 800 people in 19 units. Majr General Renaldo Rivera decided to have a formal cake-cutting ceremony to celebrate the anniversary while hosting a meeting with several former senior army advisors to the guard (SRAAG).
The SRAAG serves as the primary active Army advisor to Rivera and provides advice on training, readiness and mobilization from active component perspective. Approximately 60 people showed up at the birthday bash, according to Charles David of the VING Anti-Terrorism Office, who helped coordinate the event.
"It was a great day – it was good to see the former SRAAGs talk about how much has changed over the years and see how the VING has progressed," David said.
Sgt. Maj. John P. Wilson gave the keynote address Tuesday, attending with other distinguished visitors who all had had roles in the VING at one point or another. Guests included retirees Col. Robert Mitchell, Maj. Felicia Jones, Sgt. Maj. John E. Wilson, Sgt. 1st Class Juan Cruz and Sgt. 1st Class Jimmy Chisel.
Mitchell had a significant role, because he was not only a SRAAG but was also a chief of staff at one point in the VING, and according to David, he reminisced quite a bit about how things had changed.
Lt. Gov. Gregory Francis, who was one of the very first members of the newly formed VING in 1973, came to observe, give a few remarks, and to cut the cake.
Major Leayle Galiber was appointed as the first acting adjutant general and took command of the first two units to be activated. They were a headquarters and headquarters detachment and the 661st Military Police Company, both located on St. Croix.