About 200 eighth graders at Addelita Cancryn Junior High School took the pledge Tuesday to be gun-free, and to help influence their friends to make better decisions when it comes to conflicts and violence.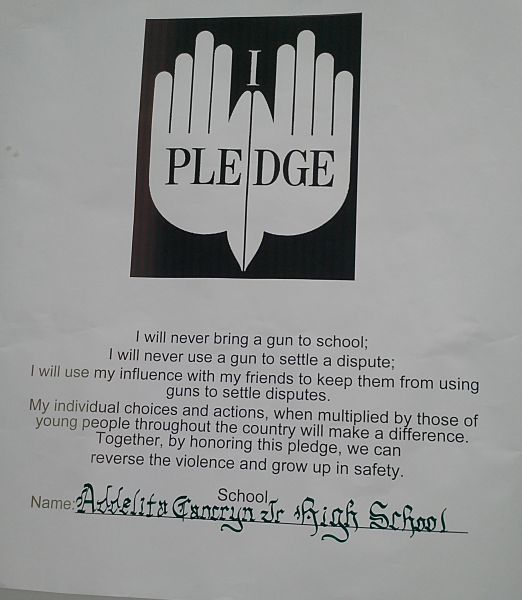 The V.I. Police Department spearheaded Tuesday's assembly, which was also done in collaboration with the LIATI Project, Project Safe Neighborhoods, and the Department of Education. Police spokeswoman, Melody Rames, explained that Oct. 19 has been designated a National Day of Concern about Young People and Violence, and the group is hoping that all local students will get involved and spread the positive message.
"We want you to use your influence, your friendship with other people, and make them think about what it is they are really doing when they decide to use a gun," Rames said to the Cancryn students.
Also participating Tuesday was Kareem Francis of the LIATI (Love Is All There Is) Project under the Stop the Bleeding Foundation, which uses local musicians, such as Pressure and Elijah Vegas, to promote their anti-violence message.
"We want you to succeed and be all that you can be, but you can't do that if you get involved in violence and guns," Francis told the students.
Making similar remarks, local and international reggae artist Niyorah (Nigel Olivacce) talked to the students about his time growing up in the St. Thomas neighborhood of Savan, and his feelings toward the violence he witnessed on the streets.
"When you see an altercation, and it's near death, it sends shock waves through your body," he said. "You don't want to see that, experience that."
Niyorah also spoke about performances he gave to inmates in Golden Grove, who he said would never be able to "step out on the streets again" because they were serving two life sentences for murder. Staying away from gangs and gang violence could prevent that from happening, he told the students.
Rames said VIPD and the other organizations will continue to visit junior high and high schools around the territory in hopes of getting more students to take the pledge. She said Tuesday's assembly, and all others, will be videotaped, with students getting the chance to appear in a commercial highlighting the program and its participants.