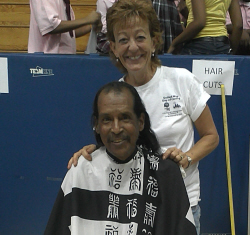 For the fifth year, United Way and Department of Human Services officials turned the UVI Sports and Fitness Center on St. Thomas into a one-stop service center for the island's homeless population, offering everything from free haircuts to health screenings.
The Project Homeless Connect event usually kicks off on St. Thomas before moving to St. Croix, and this year, the organizations were also able to bring the fair to St. John on Oct. 21, thanks to a partnership with Innovative. United Way's Executive Director Cherise Creque-Quain said that St. John's participants were brought over to St. Thomas in previous years, but Innovative's support helped make the effort territory-wide.
Creque-Quain and United Way were among the 30 provider tables set up Friday at UVI. Talking about this year's event, Creque-Quain also said that funding made available by the Department of Human Services allowed organizers to buy enough athletic shoes for every participating "client."
"They'll be able to get other shoes from the tables as well, but we wanted them to at least have a pair of tennis shoes," she said. Creque-Quain said events such as this also run primarily on donations. Some businesses cooked food and others donated products, while local pharmacies stepped up to provide the supplies needed to do some of the medical testing and screenings being offered.
Across the gym, the clients were also able to get photo identification cards, massages and haircuts, and counseling from agencies such as the Department of Labor and Social Security.
"And after the event is over, we do followup for the appointments," Creque-Quain said. "Someone may need to have a tooth pulled, so they are picked up by our organization and taken to their appointment. Or if they've made an appointment with the Department of Labor while they are here, there are followup services that are provided to get them there. So it's also a year-long process following up with our clients."
Organizers said Friday that there are unofficially 400 homeless in the territory, but only 1 percent of them are seen on the streets. The vast majority bounce from home to home and don't have a permanent address.
"Our goal is to end homelessness," Creque-Quain said. "It's a 10-year goal, and the process includes this initiative, the purpose of which is to get the clients oriented and to build trust with them so then when we're ready to implement the permanent pieces of our plan, like supportive housing, they'll be willing to participate because they already trust us."
Creque-Quain said in the first quarter of next year, a pilot program to provide the homeless with permanent supportive housing will be launched. Clients who take advantage of the program will have a place to live, and when they are ready, will be able to take advantage of counseling services also being offered.
Different providers participating Friday said that events such as Project Homeless Connect help to address some of the root causes of homelessness by trying to find long term solutions to problems ranging from drug abuse to job preparedness.
"Some of the people we're seeing today might be job ready, they've just fallen on hard times, but the majority have issues that would keep them from even being able to sit down and talk with a prospective employer," said Kayyon Harley, veteran's representative with the Department of Labor.
Harley said unemployment in the territory is up to 9.5 percent (compared to 8 percent a year ago) and looks like it will continue to rise. With people getting laid off and businesses still closing because of the recession, getting jobs for a person on the streets is difficult when skilled workers are out there looking, she said.
"That's why an event like this is important, because it helps us look within ourselves and take a time out to get involved," she said. "This is happening not just to our locals, but to everyone. Homelessness has no race, no color. So, we need to have a heart and start looking out for one another, because any of us can be next."