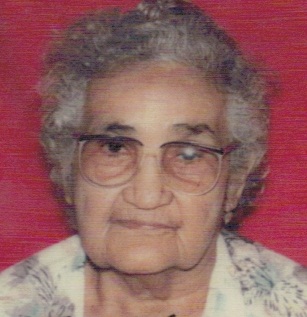 Juana Bautista Saldaña, also known as "Mami" or "Juana," of Estate La Grande Princesse died on Oct. 7, at the Herbert Grigg Home for the Aged.
She is survived by her adopted daughters: Alejandra Nico (Lydia), Arcadia Borges (Cayin), Malvelina Monell and Lydia Monell; son, Stanley Jacobs; adopted sons: Raymond Jacobs, Jose Jacobs, Carlos Monell (nephew) and Christian Thompson; grandchildren: Xiomara Jacobs and Xanthia Jacobs; great-grandchildren: Tarik McMillan, Biko McMillan, Xaia Todmann and Xoe Osborne; daughter-in-law, Georgia Jacobs; sister, Damasina Saldaña; sister-in-law: Rufina Saldaña (Bica Doñatina); special friends: Henrietta McClean, Howard Dyer, Amy "LaColorá" Alvarado, Mary Pillot, Ramonita Caines, George Gautier and The Ten Sleepless Knights; as well as other relatives and friends too numerous to mention.
A viewing will take place at 10 a.m. followed by a funeral service at 10:30 a.m. on Monday, Oct. 17, at Holy Cross Catholic Church. Interment will follow at Kingshill Cemetery.
All arrangements are by James Memorial Funeral Home Inc.