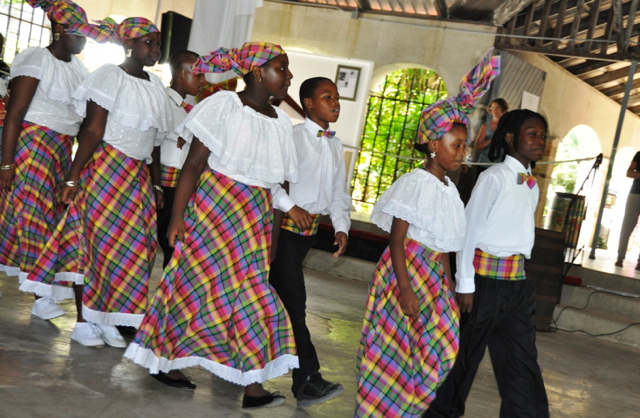 The St. George Village Botanical Garden gave visitors a treat to remember and something to think about Sunday at the 2nd Annual Fall Heritage Festival, where rich history, delicious food and cultural music brought hundreds together for an afternoon.
The festival, which went from noon to 4 p.m., proved to be a moving day for tourists and locals who came for this year's theme, "Recognizing the history of St. George: Remembering those individuals who lived and worked here."
"I think it's so important that we remember how we came here, and without history, we would be lost," said Suzanne Winslade, a tourist from New Hampshire.
The day started off when Junie Bomba Allick blew a traditional conch shell call to gather the crowd and begin the event. Allick was also selling his beautiful hand carved conch shells. Bully and the Musical Kafooners played Quelbe music in the Great Hall, while children and adults tapped their feet to the rhythmic sounds as they ate lunch provided by Good Chew Catering.
Some crowds gravitated toward bush doctor Veronica Gordon, listening to her explain the medicinal properties of herbs while following her on a tour.
Aziyza Shabazz demonstrated of how to make a drink out of hibiscus.
"These drinks can be healing for the mind and body," Shabazz said.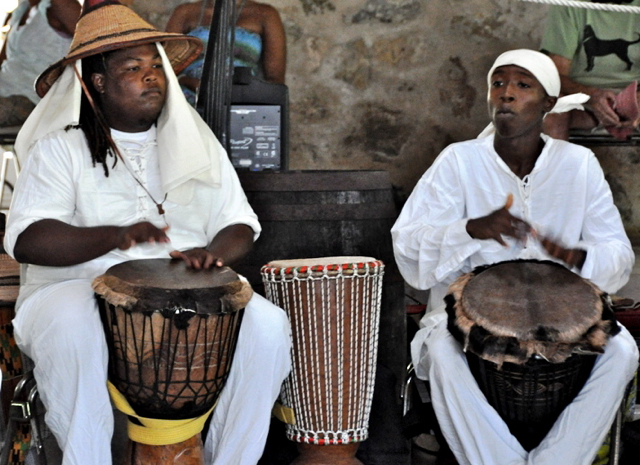 Dozens of smiling children played hopscotch or rode Stephen O'Dea's donkey Eeyore, while parents watched blacksmith Richard Waugh demonstrate his amazing skills with metal. Judy Bain also taught kids how to make dolls and weave baskets.
Finally, after hours of walking the gardens and learning about its various historical aspects, a large crowd settled down to listen to historian George Tyson talk about the enslaved population that once lived on the grounds.
Tyson explained that during the 18th and 19th centuries, there were between 10,000 and 15,000 enslaved people literally working their bodies to death on the sugar plantations throughout the island.
"The fact that we can trace these people from the 1760s and follow them for years and decades is quite unique," Tyson said.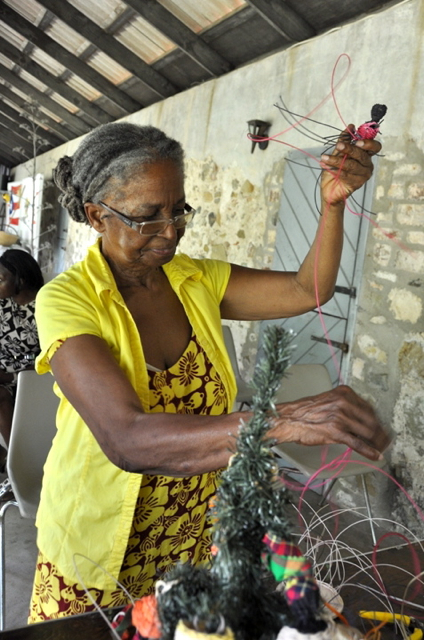 Tyson is working to create a database going back hundreds of years so Crucians can see and tell their life stories from a historical aspect. He and ChenziRa "Dr. Chen" Kahina, wanted to give voices to the enslaved people because their stories Tyson said, have impacted all of us.
"It's very important for everyone's heart, mind, body consciousness to be open and receptive so that most important healing can take place," Dr. Chen said. "I want to give voice to the people who didn't have one."
Kahina's Per Ankh Dance Troupe then came out and wowed the crowd with the most poignant show of the afternoon. The lives of six enslaved persons who lived at the gardens were acted out and dramatized to depict their real-life stories:
• Cornelius, played by Akeru Christopher, was a field slave who died at "the young age of 69," and whose value went down markedly as he drank and aged.
• Mina, played by Anumaat Kahina, was taken from Africa and lived and died as a slave at the garden.
• Jupiter, played by Anuptah Kahina, was born enslaved and worked in the field until he became an invalid and was worth nothing.
• Netta, played by Anutmeri Kahina, was taken from Africa and bore a child, and as a result her value went down.
• Titus, played by Anuka Kahina, was taken from Africa and was a field worker until he became invalid.
• Luca, played by Dr. Chen, was taken from Africa and worked for 35 years as a laborer at the Garden.
After the actors played out the emotional scenes, a powerful drum session followed, with the dancers whirling and moving to the sound of drumbeats.
"The drums signify the heartbeat and soul, that's why we dance to it," Anumaat said. "We are a family troupe, and drumming keeps us together.
After the performances, people mingled and talked about the importance of telling their stories. Allick said he wished the true story was taught more in the local schools. St. Croix resident Pyma Williams said she enjoyed the performance and wanted her kids to experience the local culture.
John and Tiffany Bowman, who run radio station 89.9 WIVH, brought their whole family, and said that while the kids liked riding Eeyore, the dramatizations were amazing and Tiffany admitted to having chills throughout the event.
"I live like this all the time," Dr. Chen said. "The idea is to respect the humanity of our organization, and I get healing by these stories because I know it won't happen again."