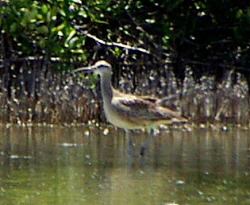 The amazing journey of a whimbrel called Hope and her migration year after year to St. Croix's Great Pond were celebrated Saturday at International Migratory Bird Day at the University of the Virgin Islands.
Hope is special because she has been tracked flying thousands of miles through storms and hurricanes to return to St. Croix over the past three years.
Hope is a brown speckled shorebird with long legs and a long curved beak she uses to catch crabs.
International Migratory Bird Day is typically held the second Saturday in May. But according to the U.S. Fish and Wildlife Service, any day can be a celebration of the return of any and all migratory birds to a community.
Conservation biologist Fletcher Smith presented a discussion on migration and tracking to more than 50 bird enthusiasts and UVI students in the theater at the Melvin Evans Center. Smith is from the Center for Conservation Biology at the College of William and Mary/Virginia Commonwealth University.
Great Pond, located on St. Croix's south shore, has been designated an "Important Bird Area" by BirdLife International. The pond, mudflats and mangroves are home and nesting grounds for 75 species of migratory and resident birds.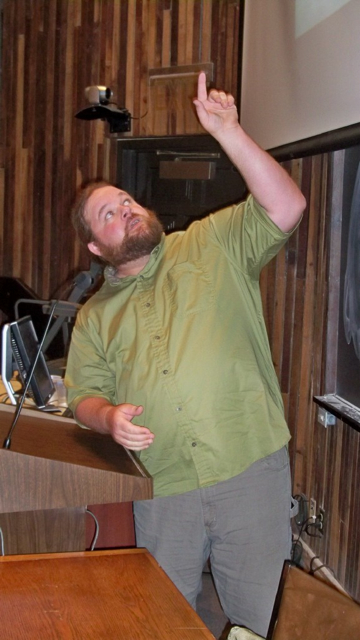 Smith said scientists collect data identifying wintering, breeding, stopover locations, and migration patterns to see what areas they are in and to protect the area in large scale preservation.
"Just this one bird represents all the birds that stop at Great Pond.," Smith said. "She is connecting the hemispheres together and connecting scientists with the general population. She is one really cool bird."
Hope even had her brush with fame in a brief broadcast Saturday on National Public Radio.
Hope's documented journey started in May 2009 in Virginia, where she was fitted with a 9.5 gram, $3,500, solar powered, satellite transmitter backpack. Data from the transmitter is e-mailed to scientists at different intervals. Smith said Hope, at 14 ounces with a 32 inch wingspan and 17 inches in length, is a big girl. Her size and ability to pack on weight is probably how she has been able to fly though hurricanes and to have logged over 40,000 miles in just three seasons of tracking.
"Her fat powers her through the storms," Smith said.
In 2009 she left her breeding ground near the McKenzie River in Northern Canada and flew 3,500 miles non-stop before landing on St. Croix in August. She flew the same loop in 2010, arriving in August.
Her trip to St. Croix this year was something else though. After breeding, she flew to the Hudson Bay area where she fed. She left there Aug. 14, flying on a path that took her into the path of Tropical Storm Gert. In the storm her speed went from 37 mph to 9 mph. She flew against the wind for 27 hours, covering 250 miles. When she reached the center of the storm, she turned west and, with the wind at her back, flew 150 miles to shore in a little more than an hour, averaging 92 miles per hour.
She rested for a day on Cape Cod, Mass. She had to ride out Hurricane Irene in Virginia. From there she flew 1,700 miles towards Puerto Rico, flying into Tropical Storm Maria, but there was no stopping her. She kept on going to St. Croix and landed at Great Pond on Sept. 14.
Smith has seen Hope at Great Pond and said she is molting and appears healthy.
"The presentation was fascinating and quite amazing," said Stuart Ketcham, biology professor at UVI. "I would like to plan on doing behavioral observations of Hope with my students."
After the presentation Smith answered audience members questions.
Smith gave presentations to high school students at St. Croix Educational Complex and Good Hope School Thursday and Friday. Sunday "The Big Sit" birdwatching was hosted by U.S. Fish and Wildlife Service at Sandy Point National Wildlife Refuge. A walk around the mudflats of Great Pond to look for Hope, who wears a green ankle band, also took place Sunday.
Smith says the Center for Conservation Biology has also been tracking bald eagles, golden eagles, yellow crowned herons, and willets.
Partners in the program were the National Park Service, U.S. Fish and Wildlife Service, University of the Virgin Islands and the Center for Conservation Biology, College of William and Mary and Virgina Commonwealth University.