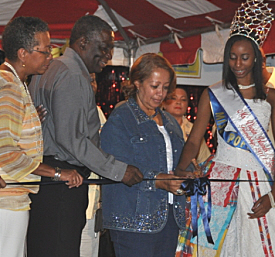 The St. Croix Agriculture Department grounds were bustling with people as the opening ceremony for the V.I.-Puerto Rico Friendship village kicked off Friday evening.
This year, the village was "Governor Juan Francisco Luis Friendship Village" in honor of the late former governor of the territory, who died in June of this year. The 47th annual celebration opened with a ceremony of territorial dignitaries and members of the V.I.-Puerto Rico Friendship celebration giving speeches in Luis' honor.
Luis' widow and former First Lady Luz Maria Guadalupe Luis said after being honored with flowers and a small plaque, that VI-PR was something Luis strongly believed in while governor. She held back tears as spoke about memories of her husband.
"Friendship was something Juan believed in and he was well-loved by everyone," Luis said. "I encourage you all to continue to share and love your neighbors and friends no matter what their culture or ethnic background is."
In addition to members of the The VI-Puerto Rico Friendship Committee giving speeches in Spanish and English, Lt. Gov. Gregory R. Francis, Delegate to Congress Donna M. Christensen, and Senate President Ronald Russell all gave speeches honoring Luis.
Christensen gave her remarks in Spanish as well as English and said of Luis, "History will tell it's truly fitting to honor his legacy; he was an embodiment of the culture and from ties to his family and ties to the community."
Francis said, "Many times when we are looking for names in honor of someone, they have to be someone of good character, and it's a pleasure for me to say Luis was of the highest character."
After the ribbon-cutting ceremony, Stanley and the Ten Sleepless Knights lit up the night with their eclectic mix of popular quelbe music.
While the crowd wasn't as big as in previous years, a few hundred people still jammed to the music while eating rich Hispanic meals being fried and served on the spot. The crowd seemed to gravitate toward Belardo's, owned by ex-senator Lilliana Belardo de O'Neal and her husband, Humberto.
Several people waited in long-lines to try the alcapurrias – a deep-fried fritter filled with meat and white vegetables.
As the crowd started growing, the St. Croix Heritage Dancers took the center-stage and swayed and swung. Later, Sabor Latino performed and the crowd got up and danced.
The VI-PR was recognized in 1964 by Gov. Ralph E. Paiewonsky, making Columbus Day, the Virgin Islands and Puerto Rico Friendship Day. In previous years, the village opened Friday and went through Monday – Columbus Day, and a VI-PR parade usually happens. However this year, the village will only go through Saturday night and the parade will not be happening, according to VI-PR President England-Ryes.
"This year we just don't have the funds to do the parade, and last year we didn't get a big turnout, so instead we spread out the activities throughout the month to celebrate VI-PR along with Hispanic Heritage month which goes from Sept. 15 to Oct. 15." she said.
There will be a "Governor's Award Reception Ceremony" at 6 p.m. at Government House on St. Croix where dignitaries will speak, and awards will be given out to honorees. A dance presentation by Bambula Dancers and the Pearl B. Larsen Elementary School Bomba Dancers will also take place.