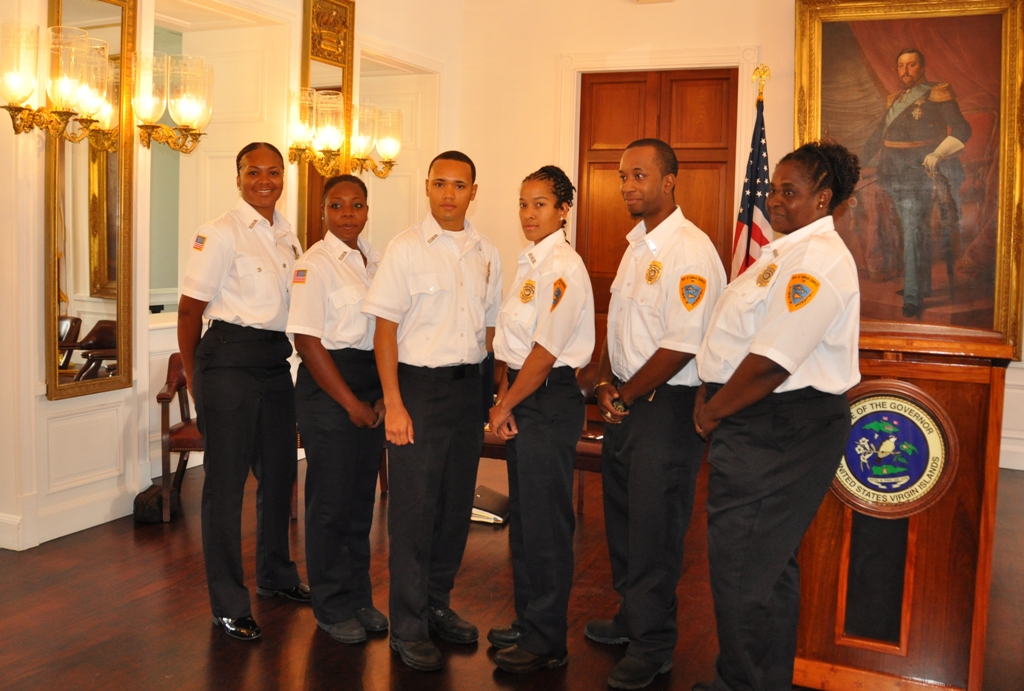 Nine new correction officers were welcomed to the Department of Human Services Youth Rehabilitation Center at a graduation ceremony Wednesday morning at Government House on St. Croix.
The center, which is located on St. Croix, is the only secured detention facility in the territory, providing incarceration for pre-trial and adjudicated delinquents as well as adolescents legally transferred to adult status for committing serious felonies. The delinquents stay in the residential facility, which provides intake, social services, education, and court-related mandated services.
Training for the new officers began June 6 and consisted of various disciplines and on-the-job instruction, ranging from stress management and institutional safety to resident relations and use of force.
"Unfortunately, unlike in the States, we do not have an academy here, so we must rely on our own expertise for training," said Juvenile Justice Administrator Lewis Edwards.
Edwards said the four-month training was mostly weekdays and occasionally involved some weekends and night training.
"I'm really enthusiastic about this group of graduates; they were a really solid class," Edwards said.
There hasn't been a new class of juvenile corrections officers for a few years, and DHS Commissioner Chris Finch said that he wanted to send the recruits off with pride.
"Normally the ceremonies are held in restaurants, and I just thought it would be nice to use Government House since some people have probably never had a chance to come to events here," Finch said.
Two officers were transferred from the Board of Corrections, and the other seven were independent applicants; but only six of those could make it to the ceremony. Those proud officers strutted around the main ballroom mingling with family and friends, as they waited for the 9:30 a.m. ceremony to begin.
Juan Becerril, a soft-spoken 21-year-old who also serves in the V.I. National Guard, said that basic training helped him with the physical aspects of the four-month course, and said that he was happy to begin working right away.
"We finished class Friday, and I'm looking forward to get started on the job," Becerril said. "I've always loved law enforcement and someday I hope to be a cop."
Beceril's mother, Luz, was confident that her son her son would achieve his ultimate goal.
"I expect that he will just continue to excel and go all the way, he's always wanted this," she said with a proud smile.
During the formal part of the four-hour ceremony, DHS Acting Asst. Commissioner Carla Benjamin, stressed the importance of the officers' mission.
"You are all points of light in the lives of children and families who can easily succumb to the darkness," Benjamin said.
Finch told a story about when he played Santa Claus and noticed a young kid in handcuffs and how the process changed his way of thinking.
"I thought if we could learn what went wrong with that young kids, we could all go along long way," he said.
Finch told the officers that troubled youth who find their way out of trouble always seem to give credit to one or two people who believed in them along their paths. He charged the officers with keeping a positive approach and attitude, and said that their roles as officers will affect lives.
After a small awards ceremony, the following officers were called to the front of the stage to pick up their certificates of completion: Ivina Douglas, Zoraida Martin, Nicole Orr, Sharazade Um'Rani, Rogers, and Becerril. Jamal Prospere, Uel Richards, and Leonora Silcott-McFarlane could not make it to the ceremony.
Beatrice Chapman, Rogers' grandmother, was both surprised and pleased that Rogers made it through training. She said she never imagined he would cut his long hair, but she was excited and proud that he finally overcame the struggle.
A bald-headed Rogers smiled "It's lot easier to maintain now," he said.
Um'Rani just wants to get to work. She got her B.A. in Criminal Justice and feels like she is fully prepared to take on the challenge.
"I am looking forward to working with the residents and I can't wait to get started," she said.