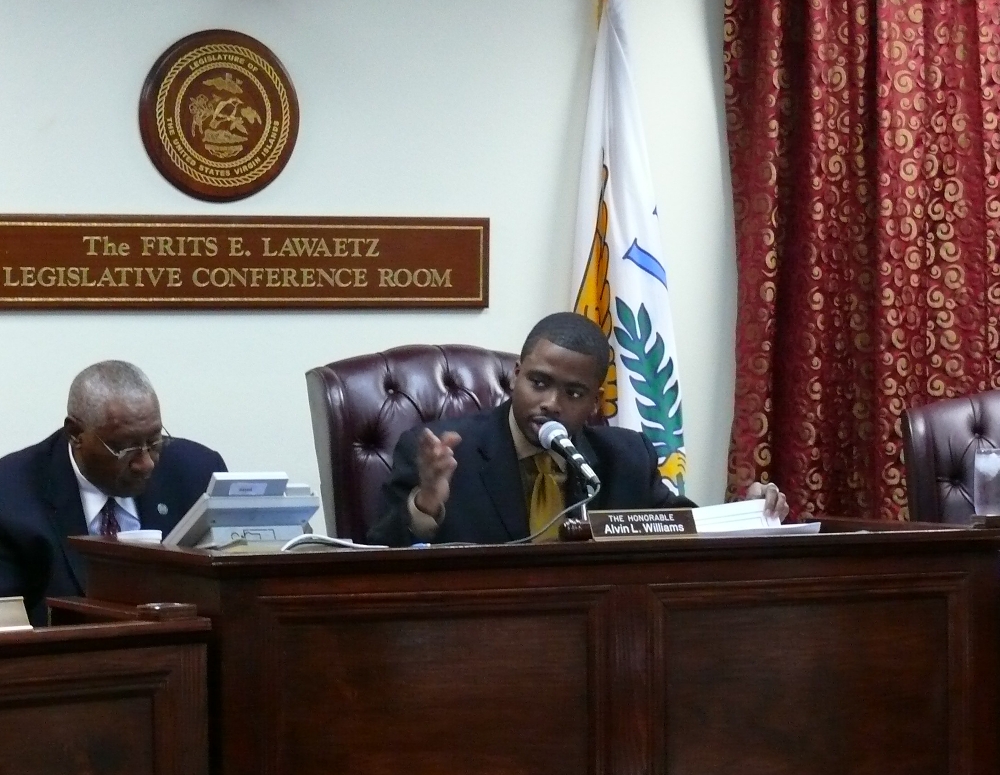 Sen. Alvin Williams' office and computers were the subject of a search warrant executed Wednesday by federal agents, Senate President Ronald Russell has confirmed, urging the public to avoid jumping to conclusions before more is known.
"We were here in St. Croix for a committee meeting, and [V.I. District Court Magistrate Judge Ruth] Miller issued a search warrant that was specific to the office of Sen. Alvin Williams and computers within the office," Russell said Wednesday afternoon outside of the Legislature's offices in Frederiksted.
Staff and legal counsel on St. Thomas called Russell on St. Croix and read him the warrant over the phone when U.S. Marshals arrived and presented it, he said. The warrant was in order and properly executed, according to Russell.
"I would have preferred they faxed the warrant to me before they executed it, but we cooperated and will continue to cooperate," he said.
Asked what agents were looking for, Russell said that information was not given to him.
"As I understand it, the warrant was issued under seal," he said. Search warrants simply seek information and no charges have been filed, so speculation about criminal activity would be premature, he said.
"I'm sure there was specific information they were looking for, but I don't want to speculate and then cast aspersions on the senator or anyone [sic] to do with his office," said Russell. "I think we should just wait; there is a process in place, a search warrant seeks information and if they receive the information and want to go further, they will," he concluded.
The U.S. Attorney's Office for the District of the Virgin Islands would not comment at all on the raid Wednesday. "We do not comment on ongoing investigations," said Joycelyn Hewlett, public information officer for the V.I. U.S. Attorney's Office.
Reached by cell phone early Wednesday evening, Sen. Williams said he was unable to "really talk right now." It's unclear whether he was declining comment or simply too busy at that moment.
Agents from the FBI and the U.S. Marshals Service arrived at the Earl B. Ottley Legislative Building on St. Thomas around noon Wednesday and closed it off. According to people at the scene, the agents, all wearing dark suits and sunglasses, moved in and out carrying papers, bags and computer equipment they had seized.
At about 12:45, Nicholas Peru, a member of the V.I. Inspector General's office, and another man who did not identify himself, left the building and declined to answer a reporter's questions, saying they couldn't comment on ongoing investigations.
According to an informed source, the raid was part of a grand jury investigation into Williams' activities. The source said the probe is focused on allegations that Williams has used his Senate staff for personal business.