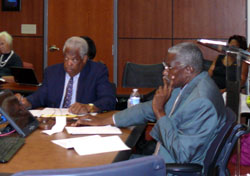 Annual cash bonuses for government retirees will be slashed this year because the V.I. Lottery has failed to meet its government-mandated funding levels for the GERS program, V.I. Government Employees' Retirement System Administrator Austin Nibbs told the GERS Board of Trustees Monday.
The Legislature passed a bill in 2009 mandating the V.I. Lottery give GERS $2.27 million every year to pay for the small annual cash gift to retired V.I. government employees. This year, GERS received only $1.14 million, Nibbs said—less than half the required amount.
If the full amount had been available, GERS would have divided the money among 6,249 retirees, for about $432 each, before taxes. With the smaller sum, each retiree is entitled to receive roughly $183 before taxes, or $137 after taxes, according to Nibbs. Checks should go out later this month, he said.
St. Croix activist and Education Department employee Mary Moorhead and a number of retirees appeared at Monday's board meeting, asking GERS give them cash allocated for GERS contributions on retroactive pay disbursed last year.
In 2010, the Legislature passed a bill to provide $36 million in retroactive wages and $6 million in corresponding GERS contributions for V.I. government employees—roughly 16 percent of the total due them for past, unfunded pay raises that were never implemented. Retirees had to make up any shortages in their contributions to GERS when they retired, before they began receiving annuities, according to Moorhead.
Since some of the money was for contributions for employees who retired, and those retirees had already made all their contributions, Moorhead and the retirees argued that money should be divided among the retirees, or those retirees should be able to apply their share of the sum toward any GERS loans they hold.
GERS Legal Counsel Cathy Smith said the retroactive payments were the result of legislation and that GERS lacked the authority to distribute the cash in any way other than described in the legislation.
Nibbs said GERS would consider crafting a proposal to offer the Legislature to address this and other areas of ambiguity concerning how GERS is to handle the funds allocated for GERS contributions.
The board voted to continue holding PIMCO bonds for the time being, despite its being downgraded, in hopes that it will rebound. It also ratified a committee vote to direct Nibbs to have a financial consultant review proposals from several GERS loan holders and lessees.
At issue are a proposal from Seaborne for GERS to potentially take on a partial ownership stake in the company as part of debt restructuring; a proposal from Carambola Resort on St. Croix to refinance its GERS loan, and a Point of Sale corp. proposal to change the terms of its lease.
Present were trustees Raymond James, Carver Farrow, Vincent Liger, Desmond Maynard, Leona Smith and Edgar Ross. Wilbur Callender was absent.