At Dockside Bookshop we are constantly striving to meet our customer's needs. Take a look around the store and you'll notice that we rearranged a few sections to add the Teacher's Corner. This new section features many educational items like charts, maps, games, CDs and DVDs to help our students learn, grow and develop.
Dockside Bookshop – Your Caribbean Bookstore
Our new hours are Monday – Friday, 8am to 6pm
Dockside Book List
Week 10-2-11 to 10-9-11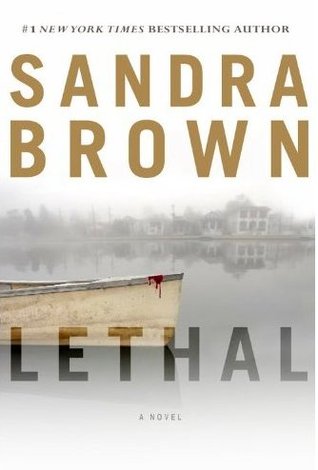 Hardcover Fiction
"Lethal"
Sandra Brown
$26.99
When her four year old daughter informs her a sick man is in their yard, Honor Gillette rushes out to help him. But that "sick" man turns out to be Lee Coburn, the man accused of murdering seven people the night before. Dangerous, desperate, and armed, he promises Honor that she and her daughter won't be hurt as long as she does everything he asks. She has no choice but to accept him at his word.
But Honor soon discovers that even those close to her can't be trusted. Coburn claims that her beloved late husband possessed something extremely valuable that places Honor and her daughter in grave danger. Coburn is there to retrieve it — at any cost. From FBI offices in Washington, D.C., to a rundown shrimp boat in coastal Louisiana, Coburn and Honor run for their lives from the very people sworn to protect them, and unravel a web of corruption and depravity that threatens not only them, but the fabric of our society
Fiction — Mystery
"Cabal: An Aurelio Zen Mystery"
Michael Dibdin
$16.00
In Cabal, master crime writer Michael Dibdin plunges us into a murky world of church spies, secret societies, cover-ups, and mistaken identities.
An apparent suicide in the Vatican may in fact have been a murder conducted by a centuries-old cabal within The Knights of Columbus. A discovery among the medieval manuscripts of the Vatican Library leads to a second death, Zen travels to Milan, where he faces a final, dramatic showdown. Meanwhile, Zen's lover, the tantalizing Tania, is conducting her own covert operations–which could well jeopardize everything Zen has worked for. Richly textured, wickedly entertaining, Cabal taps the mysterious beauty of Italy in a thriller that challenges our beliefs about love, allegiance, history, and power–and the lengths to which we will go to protect them against the truth.
Hard cover Nonfiction
"Grand Pursuit"
Sylvia Nasar
$35.00
In a sweeping narrative, the author of the mega bestseller A Beautiful Mind takes us on a journey through modern history with the men and women who changed the lives of every single person on the planet. It's the epic story of the making of modern economics, and of how economics rescued mankind from squalor and deprivation by placing its material fate in its own hands rather than in Fate.
Nasar's account begins with Charles Dickens and Henry Mayhew observing and publishing the condition of the poor majority in mid-nineteenth-century London, the richest and most glittering place in the world. This was a new pursuit. She describes the often heroic efforts of Marx, Engels, Alfred Marshall, Beatrice and Sydney Webb, and the American Irving Fisher to put those insights into action—with revolutionary consequences for the world.
From the great John Maynard Keynes to Schumpeter, Hayek, Keynes's disciple Joan Robinson, the influential American economists Paul Samuelson and Milton Freedman, and India's Nobel Prize winner Amartya Sen, she shows how the insights of these activist thinkers transformed the world—from one city, London, to the developed nations in Europe and America, and now to the entire planet. In Nasar's dramatic narrative of these discoverers we witness men and women responding to personal crises, world wars, revolutions, economic upheavals, and each other's ideas to turn back Malthus and transform the dismal science into a triumph over mankind's hitherto age-old destiny of misery and early death. This idea, unimaginable less than 200 years ago, is a story of trial and error, but ultimately transcendent, as it is rendered here in a stunning and moving narrative.
Nonfiction
"Here Comes Trouble"
Michael Moore
$16.00
Michael Moore-Oscar-winning filmmaker, bestselling author, the nation's unofficial provocateur laureate-is back, this time taking on an entirely new role, that of his own meta-Forrest Gump.
Breaking the autobiographical mode, he presents twenty-four far-ranging, irreverent, and stranger-than-fiction vignettes from his own early life. One moment he's an eleven-year-old boy lost in the Senate and found by Bobby Kennedy; and in the next, he's inside the Bitburg cemetery with a dazed and confused Ronald Reagan. Fast-forwarding to 2003, he stuns the world by uttering the words "We live in fictitious times… with a fictitious president" in place of the expected "I'd like to thank the Academy."
And none of that even comes close to the night the friendly priest at the seminary decides to show him how to perform his own exorcism.
Capturing the zeitgeist of the past fifty years, yet deeply personal and unflinchingly honest, Here Comes Trouble takes readers on an unforgettable, take-no-prisoners ride through the life and times of Michael Moore. No one will come away from this book without a sense of surprise about the Michael Moore most of us didn't know. Alternately funny, eye-opening, and moving, it's a book he has been writing-and living-his entire life.
Children's Christian Fiction
"Surrendered Heart: Payton Sky Series 5"
Stephanie Moore
$16.99
It's Payton's second semester at college. The death of her grandfather and deepening relationship with Tad teach her the value of living for God. As Payton surrenders her heart to God and shares her faith, she finds out that all she has ever desired is wrapped up in Him. Her relationship with Christ allows her to be complete and to handle the growing pains of life.
TOP SELLERS FICTION
RED HERRING WITHOUT MUSTARD–$7.99
by Alan Bradley
LOST EMPIRE–$9.99
by Clive Cussler
PAINTED LADIES–$7.99
by Robert Parker
AMERICAN ASSASSIN–$9.99
by Vince Flynn
THE GIRL WHO PLAYED WITH FIRE–$7.99
by Steig Larsson