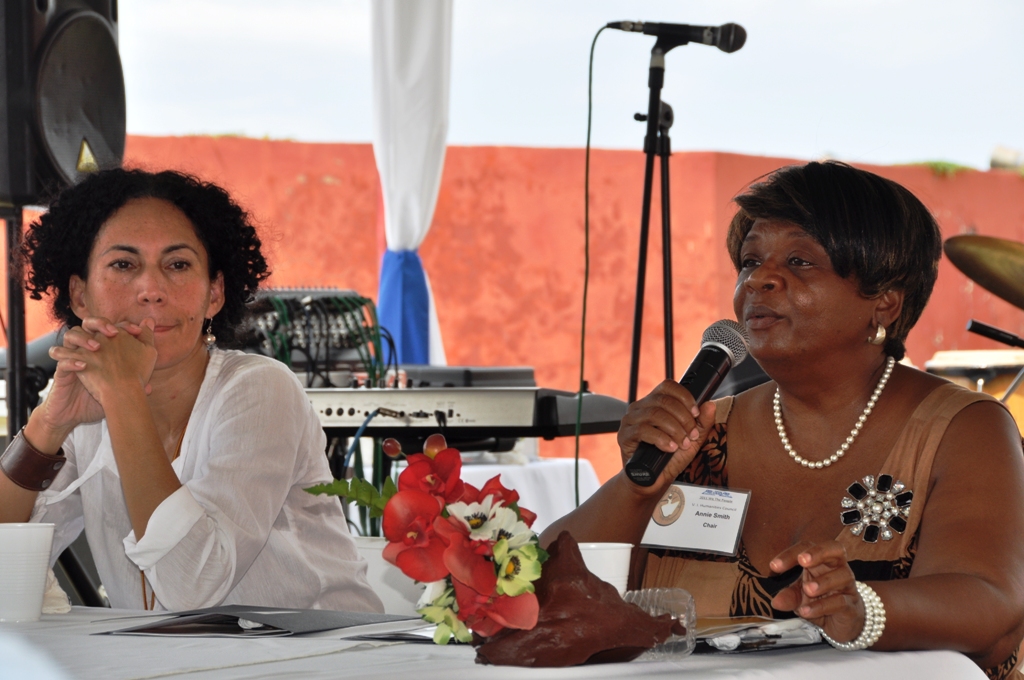 Throngs of people gathered Saturday at Fort Frederik to listen to authors, distinguished speakers, and filmmakers during the second day of the V.I. Humanities Council's conference entitled "We the People — Place, Time, and Memory: Story Toh Tell."
"Time, place and memories are the things that shape us into who we are – that make us and give us a sense of purpose," said Sen. Nereida Rivera O-Reilly, who offered her opening remarks.
Program Planning Committee Chair Opal Palmer Adisa said that she hoped people would realize the importance of sustaining island culture to make sure it gets passed onto the youth so that they can feel grounded. Furthermore, Adisa said that she believes that kids are losing themselves to crime because they don't know who they are.
"The rich history of St. Croix needs to be expanded to our young people – things have gotten out of control; and I really feel like they would benefit by knowing about their historical roots" Adisa said. "We need to say something when we see young men or women acting inappropriately, because deep down, they want that – they want to know what their roots are."
While some people were just checking out the fort from their cruise ship, most of the crowd seemed like interested scholars awaiting insight from the panel of lecturers. Even a whole class of UVI students came to the event to get extra credit on their first descriptive essay of the year.
After the opening remarks, the group moved into the North Art Gallery, where William W. Boyer, H. Akia Gore, Shelley Moorhead, and Elizabeth Rezende participated in the "Daniel L. Heftel Lecture Series," moderated by Gloria Joseph.
"Memory is the key to the title this year, for without memory, time and place don't exist," Joseph said in her opening. "Our writers have a responsibility to tell the story from the perspective of our ancestors within the context of time and place; time and place dictates the articulation of history."
Each speaker had between five and eight minutes to give a brief excerpt of their writings or thoughts about this year's theme:
— Rezende, a professor at UVI, talked about her studies on the "Free Gut" in Christiansted – an area of town where the freed black population was allowed to live during the 18th and 19th century slavery period.
— Boyer, an 88-year-old emeritus professor from the University of Delaware, talked about how he wrote his dissertation on Civil Liberties in the territory in 1948 after serving in Antigua during World War II. The second edition of his book, "America's Virgin Islands: A History of Human Rights and Wrongs" was published in 2010 after being out of print for years.
–Gore, a former research professor, defended his controversial book "Garrote: The Illusion of Social Equality and Political Justice in the United States Virgin Islands," which apparently upset people when it was published because of his use of the word "garrote," which referes to a device used to strangle people to death.
— Moorhead gave a thought-provoking philosophical lecture about place, time, and memory, and discussed how they all factor into the collective identity of the people of the Virgin Islands. He also talked about his involvement on engaging the world on the issue of reparations for slavery.
"A declaration of freedom doesn't mean you're free, you have to take action and always struggle against those forces," Joseph said, "You have to be in a constant state of mind – a revolution impermanence."
After the lecture series, Joseph had to cut short a question and answer session because two frustrated audience members wanted more answers from Gore about his use of the word "Garrote," and his admitted one-sided point of view.
The last hour of the day was spent in the South Art Gallery, where three V.I. Humanities Council video trailers depicting the theme were shown:
— Cathy Sitaram for Crucian Heritage and Nature Tourism, showed a portion of her 30-minute documentary "The Heritage and Architecture of St. Croix: A Walking Tour," which was focused on the black population who built some of the most beautiful buildings on St. Croix.
–La Vaughn Belle showed a 10-minute trailer of her upcoming documentary "The House That Freedom Built," about a house she bought and is restoring in the "OF Free Gut" area of Christiansted. The film follows her journey researching previous owners and their rich history.
–Afreekan Southwell showed St. Thomas resident Oliver Harboe's trailer "Liberated Minds," which will be a documentary tracing mental slavery from the time Africans arrived in the territory to the collective state of the African mind today after colonization.
Humanities Council Chair Annie Smith was enthused by the turnout. "The reception was great," Smith said. "People on St. Croix are really just a cultural sponge; my focus is to give a few young people quality and let them show the others, so the culture can be spread and passed on."
The We the People initiative, funded in part by the National Endowment of the Humanities, aims to help Virgin Islanders reflect on the past to gain a better understanding of the future.