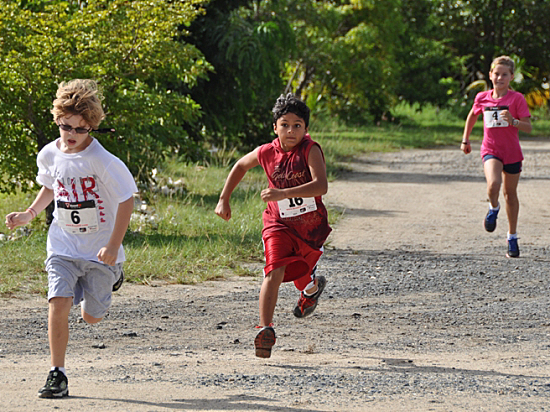 Small, beat and out of breath, first-time racer Jayden Perinon, 5, summarized the first Kids Duathlon of the season Sunday at Altoona Lagoon, sponsored by the V.I. Triathlon Federation.
Asked how he felt about the race, he heaved a sigh and said, "I'm just exhausted."
Some 22 of St. Croix's youngest athletes ranging in age from 5 to 15 years old competed in four different races divided by age group. With on and off light sprinkles, the kids first ran, then biked, and then ran again around the lagoon.
The track was arranged so that the athletes ran on a dirt loop next to the road which circled the lagoon park, then they picked up their bikes from the stand on the dirt path, and pedaled when they got back to the road. After biking, the youngsters had to finish the race by running another lap.
The first age group to compete was the five- and six-year-olds, who had to run a quarter-mile, bike a half-mile, then run another quarter-mile. Five small athletes competed while parents and volunteers ran alongside coaching them and cheering them on.
Some parents were more nervous than their children as it was their first time letting their kids race. Perinon had never raced before, said his mom, Chamalia Ventura, but he started off strong, leading the first portion of the run.
Milan Lenhart, a young girl, caught up with him on the bike and won the race with a time of 10:42, but Perinon still came in second, with a race time of 12:56. Kathryn Garren, also a first-time racer, came in third overall and second for the girls, and clocked in at 15:29. Unfortunately, well-known racer Odin Andrews took a wrong turn during the bike phase and finished out of the top three.
"I am just extremely proud of Jayden," Ventura said. "He has been practicing and people in his class at AZ Academy always tell him he's the fastest, so that helps."
Cat Lenhart, Milan's mother, was also extremely proud of her shy daughter and said that it was never about winning or losing, but about having fun and giving it her best effort, which she did.
The second wave of competitors in the 7-to-8 age group had eight kids who went the same distance as the younger group.
For the boys, Mikey Dizon-Bumann led the entire race to come in first with a time of 7:55. Brice Richards and Cooper Crowther had a tight race for second and third, each leading at some portion of the race, but Crowther took second and clocked in at 8:38. Richards soon followed with a time of 9:28.
Charlotte Halk, the first girl sprinted into first place and fourth overall with a time of 9:47, and was followed by Erin Adrews, who came in second at 10:35. Another experienced racer, Aislin McStay, came in third for the girls, with a race time of 10:55.
Although Jason Henry's daughter, Dayalee Genera, came in fourth for the girls and last overall, he was just happy that she competed for the first time and he plans to attend all the races for the year.
"I came originally as a volunteer rescue man for the races, and when I saw what it was all about I thought I would get Genera involved," Henry said. "It's just a good opportunity to get the kids involved into outdoor activities instead of sitting in front of the TV playing games."
The 9-to-11-year-old group, with seven youngsters competing, was the third group of the day. Their race was a full mile longer than the others. They had to run a half-mile, bike one mile and run another half-mile to complete it.
Collin Potter, who was leading for the boys during the run and Nati Kuipers, a young girl, were neck and neck throughout the race, but Potter sprinted the last leg to take first overall with a time of 16:11. Kuipers came in first for the girls at 18:01. Michael Adams came in second place for the boys with a time of 19:10, but he was followed only a second later by Gabriel Sanes, who won third-place at 19:11.
There was only one other girl in that race, Miko Dizon-Bumann, who came in second with a time of 24:20.
Potter, who had never run in a race, was worn out by the time he crossed the finish line. "I feel dizzy," was all he could say as he ran his hand over his head.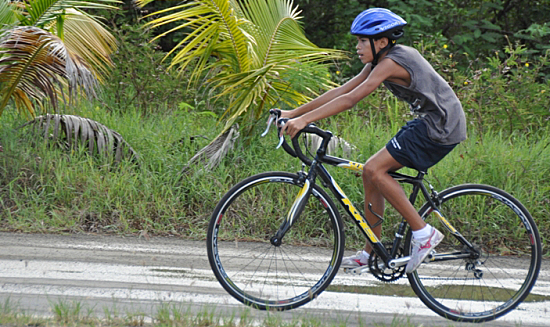 The final and longest race of the day – a mile and half longer than the others, was for the 12-to-15-year old group, which only had two racers. 12-year-old Adriel Sanes, who won nearly all the races last year and a few adult races this year, and 15-year-old Chris Car, who has never competed raced each other.
Sanes took first-place again, clocking in with a time of 21:47, and Carr came in not far behind after at 22:33.
The VITF team was excited with the spiffy brand-new trailer they had to carry the bikes. Several people chipped in to purchase it, including the V.I. Olympics' Tom Peil, Diamond Pharmacy, Joel and Jackie Holt, Gallows Bay Hardware, eat@canebay and St. Croix Trading Company.
"It just makes us look so official now," said organizer Theresa Harper, herself a veteran racer who just last month won the Wall2Wall Triathlon women's division.
VITF President and Race Director Scott Fricks was happy about the turnout and said, "The competition is really getting a lot more fierce this year – it's getting more serious now that they have had a chance to race."
For more information about VITF and to see footage on the other four races of the season, please visit www.vitf.org, or call Harper at 513-2707.