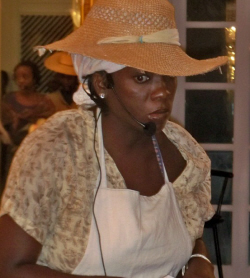 With dramatic readings transporting listeners to far-off times and locales and evoking half-forgotten memories, the V.I. Humanities Council launched its conference Friday at Government House in Christiansted.
About 175 residents attending "We The People – Place, Time & Memory: 'Story Toh Tell!'" delighted to poetry, theater and movement. Appropriately enough, some of the poetry read was that of Marvin E. Williams, who was honored posthumously by the council with its Humanist Award.
Williams was an English professor at the University of the Virgin Islands and editor of The Caribbean Writer, a literary anthology with a Caribbean focus. Over the years, Williams contributed around 35 poems, short stories and essays to the journal.
Dasil Thomas-Williams, his widow, accepted the award and said her husband loved all the humanities. Alscess Lewis-Brown, VIHC board member, presented a carved wooden plaque made by Afreekan Southwell to Thomas-Williams.
David Edgecombe, playwright and director of the Reichhold Center on St. Thomas, directed dramatizations of works by Williams, Tiphanie Yanique, Clement White, and James deJongh. Leading a crew of 11 performers were St. Croix favorites Oceana James and Lionel C. Downer.
The couple performed "Songs for Das Camella" by Williams, circling the ballroom and gazing into each other's eyes as they recited the lines of love.
All the performers sang, danced and read "Do Lord Remember Me" in lively gospel and revival style. The play, written by deJongh, a scholar, novelist, playwright – and uncle to a certain Gov. John deJongh Jr. – is a moving account of personal histories and stories of former slaves.
"Queen ah the Queen Dem" by White was a rousing rendition of the story of Queen Mary, a leader of the Fireburn labor riot that took place on the West end of St. Croix in 1878.
A piece that got a standing ovation from the crowd was "Kill the Rabbit," an excerpt from Tiphanie Yanique's book "How to Escape from a Leper Colony." The piece is narrated by a denizen of a St. Thomas jail, looking out a cell window at the antics of carnival as other characters come to and fro.
After the performance Yanique, White, and deJongh discussed their work.
Attendee Kelvin Vidale said he hoped to see more works showcased and performed in the future. "The performance and dialect was rich with flavor and feeling," Vidale said. "The portrayal of Queen Mary was particularly interesting to me."
"We The People – Place, Time & Memory: 'Story Toh Tell!'"was funded by the National Endowment for the Humanities, the Department of Tourism, Kings Alley Hotel, Department of Planning and Natural Resources Division of Libraries, Archives and Museums, and the office of the Governor.