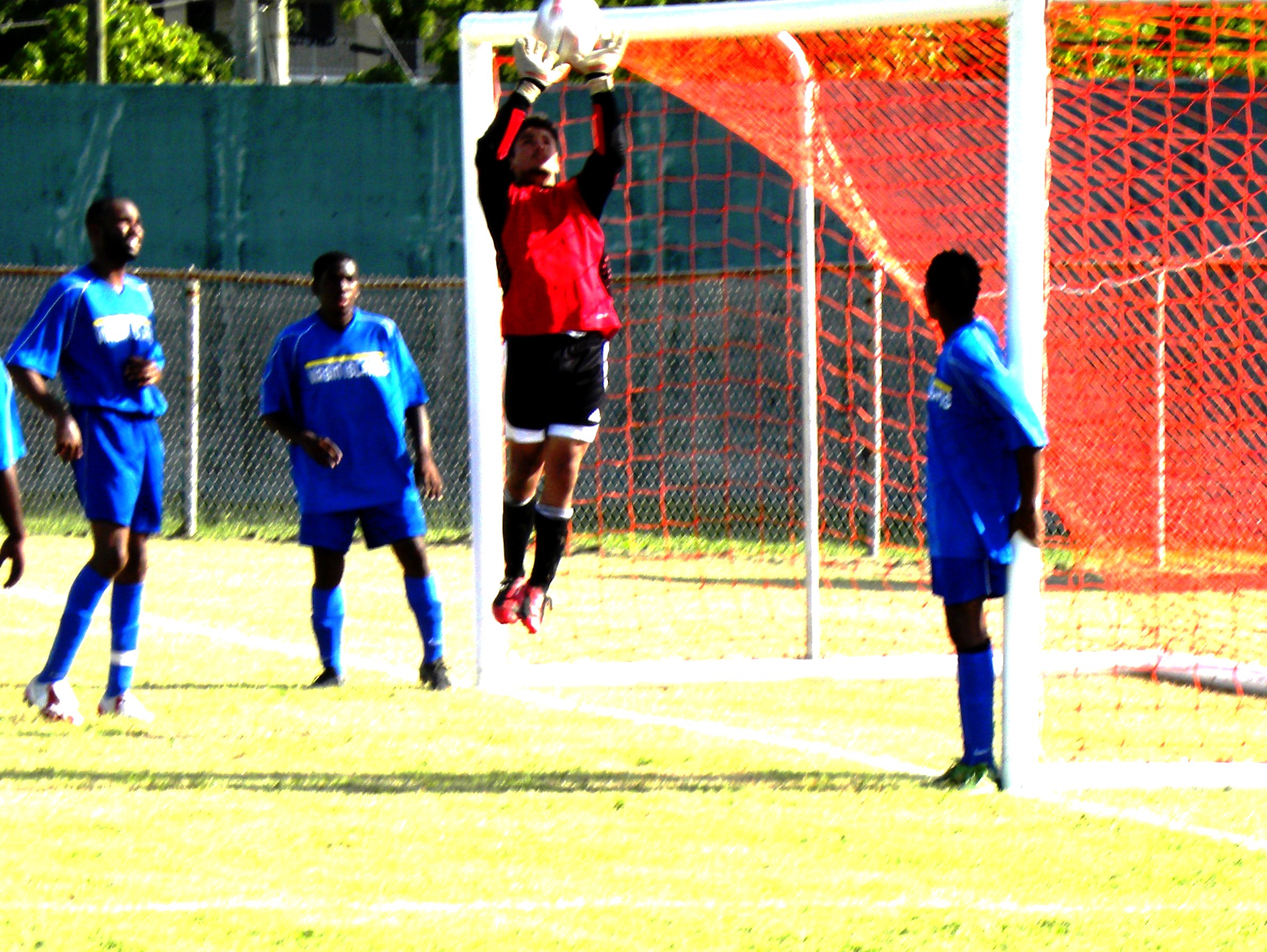 The University of the Virgin Islands Bucs soccer team drew their first-ever soccer match, 2-2, with Polytechnic University of Puerto Rico Saturday afternoon at the Paul E. Joseph Stadium in front of a small but very vocal crowd.
The home team had things their way for most of the first half and led 2-0 at intermission, but the Puerto Ricans were able come back with two second-half goals to go home with the draw.
Both teams looked tight to start the match. PU was able to create the first real chance at about the 15-minute marker but was turned away by the Bucs defense. Soon after that the Bucs seemed to settle down and started to dominate play. Their forwards and midfielders began to press the attack, putting a lot of pressure on a somewhat shaky PU defense.
That pressure paid off in the 25th minute when Yusuf Mohammad found the back of the net for UVI's first goal in college soccer competition, to the delight of the hometown fans. An even bigger celebration erupted along the sidelines two minutes later when Suresh Sookraj, on a UVI counter attack drilled a shot by PU keeper to give his squad a 2-0 lead.
The Bucs were looking great as the half wound down, but with about five minutes left they lost their most dominating player, star forward Alexander Nissman, to a hamstring injury. Nissman had been the controlling force for the Bucs and was instrumental in both goals. His absence in the second half would prove to be a devastating blow to the Bucs' chances of victory.
With Nissman out, the Bucs had no flow in their game in the second half and the Puerto Ricans took full advantage. The tide was obviously turned as they were the ones now applying the pressure. They were soon rewarded for their efforts when UVI defender Caleb Tervernier, under heavy pressure from the PU forwards, miskicked a loose ball and redirected it into his own net for an own goal. PU was now within one at 2-1.
With few opportunities on offense the Bucs defended their one-goal lead valiantly, but with less the 10 minutes left in the match, a hand ball in their penalty area gave PU the chance for the equalizer and they did not waste it. Troy Miessau, the UVI goalkeeper, guessed right on the penalty kick but was beaten by the pace of the shot from PU's Steven Soto and the score was knotted at two all.
The match would end that way with the Bucs giving a good account of themselves in their school's inaugural soccer match.