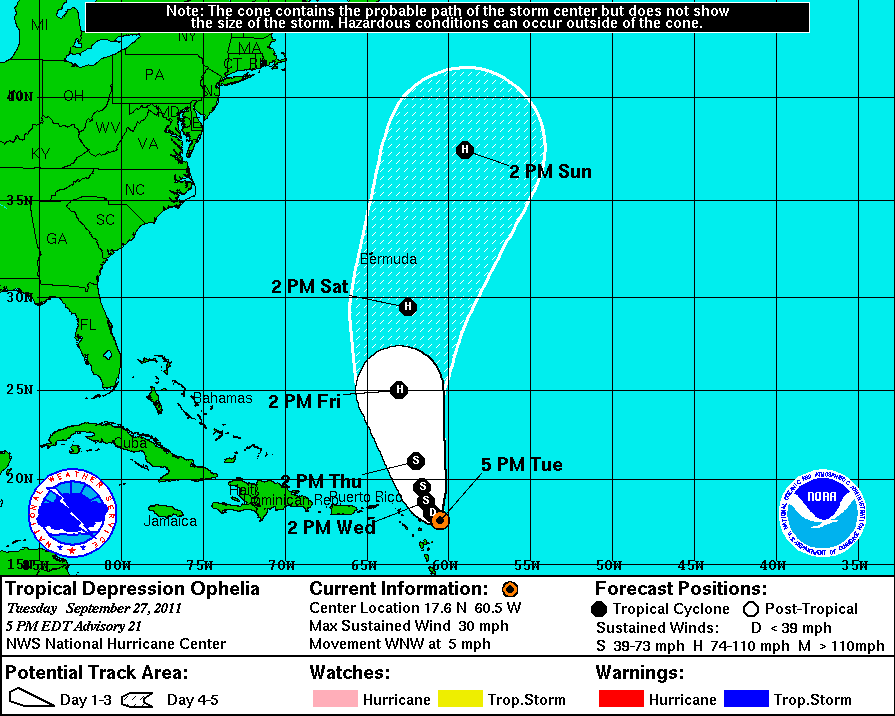 After disintegrating on Sunday, what was once Tropical Storm Ophelia gathered its winds about it and became a tropical depression again at the 5 p.m. Tuesday update from the National Hurricane Center.
"This is another interesting moment of this hurricane season," said meteorologist Brian Seeley at the National Weather Service in San Juan, referring to previous storms that unexpectedly changed track and intensity, and consequently neared the region.
Ophelia's winds are currently blowing at 30 mph, but forecasters think it will become a tropical storm again with winds over 39 mph by Wednesday.
That said, Seeley said he thinks if Ophelia doesn't intensify or change track beyond what the Hurricane Center is already predicting, the outer fringes are the worst the territory will see.
While wind probably won't be an issue, he said the territory could see some rain, but he doesn't think it will reach the two to four inches predicted for the northern Leeward Islands. And if the rain doesn't come from Ophelia, Seeley said that the storm will alter normal weather patterns across the Virgin Islands, which could produce some showers.
Since Ophelia is behaving a bit erratically, Seeley urged residents to keep an eye on the storm in case things change.
"Things are a little bit uncertain," he said.
If the track holds, the territory will be spared Ophelia's tail, Seeley said.
The storm has been drifting west-northwest toward the Leeward Islands, and it's still moving slowly in the same direction at 5 mph. A gradual turn to the northwest and north-northwest is expected over the next 48 hours.
According to Seeley, the center of Ophelia will be about 215 miles northeast of St. John at 8 p.m. Monday, and about 200 to 225 miles northeast of St. Thomas at around the same time. Ophelia will be about 200 to 225 miles northeast of St. Croix at 2 p.m. Wednesday.
Ophelia is centered at 17.6 degrees north latitude and 60.5 west longitude or 175 miles east of the Northern Leeward Islands. The barometric pressure stands at 1008 millibars.