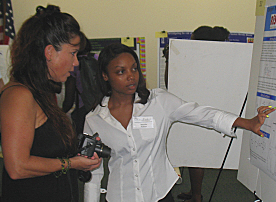 Some stood with hands clutching their chins, elbow resting on the opposite forearm, trying to get a grip on the complexities outlined on the posters in front of them. A few stood with heads tilted, eyes furrowed and a discernible question mark occupying the thought bubble overhead.
"I don't understand a lot of this stuff either," said Camille McKayle with a laugh. And if anyone should understand, it's her.
McKayle is the dean of the College of Science and Mathematics at the University of the Virgin Islands, and one of the core faculty who founded the department's so-called Emerging Caribbean Scientists Program. The program sponsors an annual Fall Research Symposium, the 13th of which was held Sunday afternoon on St. Thomas at UVI's Administration and Conference Center, which opened its doors to the public, fairly packing the center with curious onlookers.
Thirty easels flanked the perimeter of the spacious room, each buoying a large poster. The posters featured graphic renditions of abstracts prepared by one, or in some cases, a pair of undergraduates as well as one graduate student, all of whom hail from the science, technology, engineering or math departments, better known as the STEM disciplines.
The abstracts debuted research the students completed during summer internship programs at institutions ranging from UVI, to Carnegie Mellon University, to the University of Pennsylvania, Rutgers University, Temple University, and a handful of other universities from Hawaii to Michigan to Massachusetts. Sixty-three percent of the research was done off-island, and almost all of it had never been presented at UVI until Sunday.
A panel of judges will evaluate the abstracts, and the winners will present their findings at national research conferences – one to be held in St. Louis this fall and the second in Atlanta in February.
Among those prepared for just such a presentation was Marisha Perkins, a chemistry major and a junior from St. Croix. Standing poised in a white blouse, Perkins unclasped her hands and pointed to a molecular diagram on her poster as she began explaining her research. The project was entitled: "Oxygen-methylation of an Aldehyde Precursor for a 14-Membered Macrolide Antibiotic."
"I proposed different synthesis for the methylation…and the results were 90 to 95 percent yielded the desired product," she said matter-of-factly. Her listener was a member of the group with tilted heads, so Perkins translated. "This is an alcohol group," she said patiently, gesturing to a figure on her poster, "and I turned it into an oxygen connected to a carbon with three hydrogens."
The listener's tilted head nearly snapped, whereupon Perkins tried again. Her research, she summarized, was focused on antibiotics and had to do with pioneering new medicines.
Again and again, according to McKayle, students displayed a resounding command of their subject as they outlined their projects to the audience.
"None of them stands there and reads it," she said, referring to the posters that each student flanks. "They're in command and they know a whole lot more about that minute area of science they're working in than maybe anyone else in the world, except the people in the lab."
"One student," McKayle continued, "was working with a scientist who discovered a gene for Alzheimer's but she told me she couldn't talk about it because they were going to publish the work. Wow!"
As readily and capably as the students explained their research, one young man confessed it didn't come naturally to him. Math, said junior Dwayne Richardson, was a nightmare for him once upon a time. Even as a college freshman, he said he was stymied by math.
Today, he lords over a research project entitled: "The Never-ending Pairs of (m,n) Where o(m+n) = o(m) + o(n)."
Richardson, an applied math major who hails from St. Thomas, insisted that his formula was a piece of cake. "You'll understand it when you see the example," he insisted. A couple minutes later, the example apparently explained, nothing close to a sense of understanding had been conveyed to his listener.
"Don't worry," he said gently. "I never used to understand math."
The pride and confidence that filled the conference room was palpable, including from McKayle herself.
"It's my favorite day of the entire year," she said. "It's like the promise: Look at what our students can do!"
Support for the Fall Symposium and the Emerging Caribbean Scientists Program came from some $5.6-million in federal grants to UVI to support science, math and psychology endeavors, along with local grants and donors including the J. Raymond Jones Foundation and Google's Employee Matching Program.