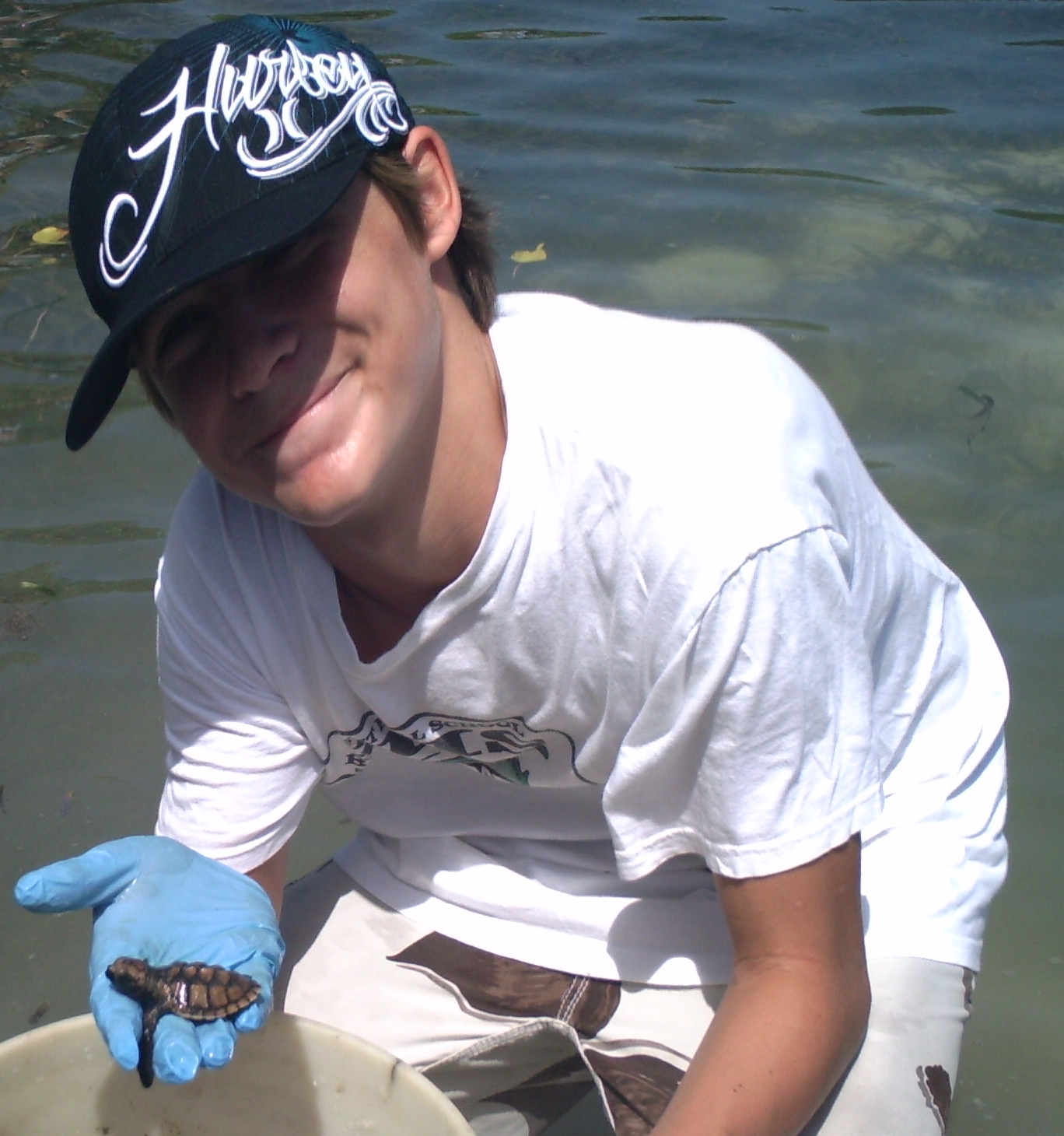 Eagle-eyed Gifft Hill School student Luke Patrie, modern technology and several helping hands combined to save a baby hawksbill turtle during a Coastweeks cleanup on St. John's north shore last week.
V.I. National Park ranger Laurel Brannick was near Annaberg Plantation with one group of students from Gifft Hill School when another group came running up from the far end of Mary's Creek with the turtle in a bucket of water.
She said they found it in among the mangrove roots surrounded by sargassum weed and debris.
Brannick called Renata Platenberg, a wildlife biologist with the Planning and Natural Resources Department's Fish and Wildlife Division, on her cell phone, texted her the photo and got some advice in return.
Although one's first impulse might be to put it in water, Platenberg instead recommended that the turtle be put it in a cooler or bucket of sand because if it's in water, it will use up all its reserves swimming around. Keep it there until it's dark, take it to a beach and let it crawl into the water, she said, adding, not to put it directly in the water.
"They need to turn on their navigational device by walking down the beach," Platenberg said.
Brannick delivered the turtle to Caroline Rogers, a marine ecologist at the U.S. Geological Survey because Rafe Boulon, the park's chief of resource management, wasn't in his office at the Biosphere Reserve.
Rogers, whose office is near Boulon's, then gave it to Boulon. He took it to Trunk Bay around 9:30 p.m. Friday and spent some time bumping it's flippers to stimulate it. He said that normally turtles hatch in groups, which provide the stimulation, but since this was a solo turtle, he needed to provide it for the turtle.
Boulon said he thinks the turtle hatched at nearby Leinster Bay, was pushed by the currents, winds and waves into the nether reaches of Mary's Creek and got caught in the mangroves and debris. He said the turtle probably wouldn't have made it out of Mary's Creek because it would have had to swim against the wind.
"It's gone from zero chance of survival to maybe one in 1,000, but at least it has a chance," Boulon said.
Patrie, the youth who found the turtle, could not be reached for comment.
The hawksbill nesting season runs from August through November, and Platenberg said that because hawksbills are on the federal endangered species list, people are not allowed to touch them.
However, if anyone finds a turtle in distress, she said they should call the Sea Turtle Assistance and Rescue Network, a group of local and federal employees as well as members of the public who work with turtles. The number is 690-0474.