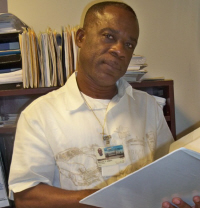 At Gov. Juan F. Luis Hospital, the Safety Department is watching out for everyone's well-being from the time they enter hospital grounds until they leave.
The safety department is under the purview of Safety Officer Raphael Joseph, who directs the Environment of Care (EOC) Program. The EOC program has oversight authority on hazardous waste and materials, security, emergency issues and the utilities departments.
Joseph, working with managers of those departments, makes sure that they all conform to plans and policies. He said all the departments have their own individual plans, statutes, and reports. He works with facilities management teams in the Biomedical Engineering, Maintenance, Security, and Housekeeping departments.
"We are obligated to conform to and follow all regulations of OSHA, Medicaid and Medicare, the Joint Commission Hospital Accreditation and national regulatory agencies," Joseph said Friday in his office at JFL.
The Safety Department staff routinely visits departments that directly impact patient care to assess safety risks and monitor conditions. Joseph says they regularly do fire drills making sure all response teams are ready.
Joseph says they are working on enhancing JFL's capacity to respond to a hazardous waste emergency. A hazmat team was recently organized and trained and the front-line staff is getting emergency training.
He added they work closely with the Department of Health and VITEMA and other agencies and are committed to being transparent.
"The public puts a lot of trust in us," Joseph says. "We want to see a well-respected institution meeting the needs of the community, where people feel secure and comfortable and get the best care possible."
Joseph joined the staff of JFL two years ago.