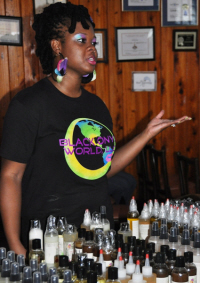 Hundreds of African-American women poured into the Windward Passage Hotel on St. Thomas and Gertrude's Restaurant on St. Croix for the first-ever Natural Hair Care Workshop and Exposition to show the territory that natural truly is beautiful.
The "I Am Beautiful" hair show brought together hair experts, product retailers and shoppers who have become addicted to the grassroots movement of "going natural."
"Going natural" is a new term that is often used by African-American women who have decided to stop chemically processing or relaxing their hair, and who have turned to natural, organic products instead.
"Women are just craving natural hair – it was crazy in St. Thomas yesterday," product-retailer Kim Aska said. "I mean there were 250 women there, and some couldn't even come in because it was so packed."
The workshop is the brainchild of St. Croix resident Denise Benjamin, who runs the website MissNaturalista.com. After going natural herself a few years ago, she became inspired to bring the knowledge to others in the territory and began shipping natural hair products to sell in her store, Essentric Shoe Boutique.
Benjamin said by networking, she was able to bring some of the best-known hair celebrities for the show. For example, Felicia Leatherwood from Los Angeles, who has done hair for Will Smith, Jill Scott and Arsenio Hall, gave presentations on both islands that seemed to hush the large audiences.
"I love the natural hair movement – it's making us take time out to take care of ourselves," Leatherwood said.
Many at the show learned about becoming natural through YouTube, blogs, or hair shows off-island. Aska, who lives on St. Thomas, started a blog about her experience with going natural, and provides videos on YouTube to spread her knowledge; her channel is called "islandgurl3601."
One well-known blogger in the world of hair is Cassidy Blackwell, a global editor and writer for the naturallycurly.com website. She flew in from San Francisco where she blogs from her personal website.
"I am so overwhelmed at the turnout here," Blackwell said. "I have been to all sorts of shows around the world, and didn't know what to expect, but this is amazing."
Blackwell said that there are two main reasons why she thinks women are moving toward natural: economic and environmental. It's extremely costly to go to a salon and get hair professionally relaxed.
Blackwell said that she used to spend $150 every several weeks to maintain her hair. Also, most hair product-relaxers have parabens, a toxic chemical that has been found in breast cancer tumors.
"Relaxers were a huge trend for 60 years, and they are full of toxic chemicals known to cause scarring and damage to the scalp," Blackwell said.
Black Onyx World LLC from Florida was also at the workshop selling its natural beauty products called "Alikay Naturals." Benjamin purchases from Black Onyx, and according to CEO Rochelle Graham-Campbell, they run out of the products quickly because of demand.
"I went natural in 2007 and I thought of making these products because I realized there is such a lack of hair products that actually do what they say," Graham-Campbell said.
Many women with Afro-textured hair have had it processed their whole lives, according to Leatherwood, and along with pulling the hair back, it has often caused permanent hair loss.
"Black women deal with hair loss and it starts so young," Leatherwood said. "You want to look for products that are sulfate-free and that don't have parabens – the products here today are natural, you guys have it made."
Regardless of the time it takes to strip chemicals out of hair, or to cut off locks, it's worth it to have the chemical-free products, said Leatherwood.
When Leatherwood asked the crowd who was proud of their natural hair, more than 50 hands shot-up at Gertrude's, "You women are all a really big inspiration for the world."