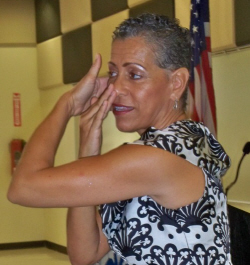 Author and inspirational speaker Millicent St. Claire was a strutting dynamo at the 2nd Annual Breast Cancer Conference Saturday, energizing the crowd with a litany of "simply ridiculous" beliefs and behaviors from her book of the same name.
Cancer survivors, patients, and support people at the Great Hall at the University of the Virgin Islands were obviously taken with St. Claire.
"So many simply ridiculous little things are shutting down our lives," St. Claire said. "The negative victim role is simply ridiculous and negative self-talk is simply ridiculous, let it go and move on (LIGMO)."
St. Clair's LIGMO philosophy is the daily application of self-awareness, self-appreciation, self-respect, self-responsibility, emotional self-management and self-actualization to one's highest potential.
"Get out of your heads and get into your hearts," St. Claire said. "And let go of everything simply ridiculous!"
"St. Claire is dynamic, and she is making it real," said Carol Battuello, cancer survivor. "And she makes it easy to focus on healing."
The Yvonne A. Galiber Foundation, Inc. (YAGF) sponsored the conference. The foundation focuses on early breast cancer detection, raising awareness and empowering women.
Following St. Claire was Dr. Dante Galiber, Yvonne Galiber's husband, who spoke about cardiovascular complications in breast cancer. He spoke about how chemotherapy, radiation treatment and hormone replacement therapy affects the heart.
Dr. Christopher Seaver, general surgeon at JFL, also spoke to the more than 50 women and men, young and old that gathered. He has a private practice at Advanced Surgical Partners, PC.
Folks got a real education when Seaver showed very graphic slides of late stage diseased breasts and surgical procedures. He told about four local women with grossly obvious cancer who died in the last 18 months who chose not to have breast cancer surgery.
The doctors agreed that certain risk factors can't be changed, but it helps to have healthy diets and healthy lifestyles.
The foundation also assists women with screening and diagnostic mammography, biopsies, medicine, travel, hotel, home care, caregivers, pathology reports, and support groups.