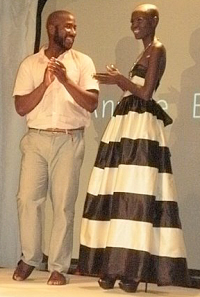 The fall season is upon us and one of the highlights of early fall is V.I. Fashion Week. But even as we look forward to the Caribbean Catwalk Runway Shows of our very own fashion week scheduled for Oct. 8 and 9 at the Marriot Frenchman's Reef Resort, we must look back at what was a wonderful fashion show this summer at the MCM Center at Antilles School.
First of all, given what is usually considered "fashion shows" here in the VI, where organizers borrow clothing from local clothing stores and have models bounce around a makeshift catwalk, the Summer Sizzle VI 2011 was the real deal, with real models, real fashion designers with original designs that were in most instances very fashion-forward. Featured among the designers was our very own Andre Etienne, who held his own among the heavyweights from the national fashion scene. As a matter of fact, Andre's collection outshone some of the designers featured. So we are really looking forward to see what he will bring us during V.I. Fashion Week this year.
Summer Sizzle 2011 was the brainchild of Terry Donovan who was able to garner such nationally noted designers as Tracy Reese, Andrew Buckler, Dominique Pearl, Andre Christian, Roger Gary, Devon Scott and Cesar Galindo, one of the strongest contenders in Bravo's "The Fashion Show." Also featured was BVI designer Kristin Frazer from our neighboring island of Tortola.
MCM's Amy Gurlea transformed the center into an arena which raised the excitement for audience and participants alike. The catwalk traversed the length of MCM allowing those in attendance a good long look at the fashions even when the models moved swiftly. The models were quite impressive, led by international spokesmodel Sessilee Lopez who worked the catwalk like the pro she is. We were also impressed by Sudanese native Grace Bol whose distinctive look and smooth glide reminded us of a young Alek Wek. Local models included former Miss Universe V.I. winner Renata Christian, Sianna Wynter, Felicia Wylie, Whitney Maduro, Esonica Viera, Toya Sylvester and newcomer Mark Garner.
While the women's fashions provided quite a show, with skirts as short as possible, the footwear was astounding. Who knew that anyone could walk in 8-inch stilettos! Dominique Pearl chose a palette that was mostly white on white, with some off-white and pastels. For the men in the audience, Andrew Buckler showed a collection with casual clothing perfect for the summer or for cruising this winter. Andre Christian's collection featured woven underwear. Wolf whistles greeted the more scantily clad models as they moved across the runway.
Among those who were captivated by the sizzle on the runway were Robert Chen, Noreen Michael, Kendra Frett, Calvin Dallas, Moleto Smith with his wife Athenia, Cherese Creque, Danielle Wiltshire, Ilene Garner, Arel Farrington, sisters Jeanna and Jezedia Suhanani, Brenda Colanges with her husband, Franz, St. John artist and designer Karen Samuel with her sister, Coreen Samuel, and their friend, Cerene Johnson-Turnbull, also Lisa Wynne Magnuson, our 2011 Mrs. Virgin Islands winner who did us all proud at the national competition, Mabel Maduro and Norm Jones with his Joanie, a former model who looked like she could still rock the runway.
Teron Christopher held the winning raffle ticket which garnered two tickets to the Cayman Islands. Wish we could go with!
We'll see you at Virgin Islands Fashion Week next month.
SCENE……..!!!!
Please send invitations to private and public events to junearchibald2@gmail.com or source@viaccess.net.