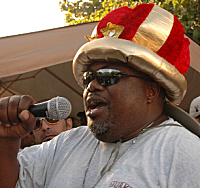 Birds, beer and bikinis reigned at Saturday's King of the Wing Contest, in which a coalition of local building-trade titans took home the title from Smith Bay Park.
A beaming Julio King and Peddy George accepted the crown and trophy on behalf of Construction Cookers, whose chef – Marvin Vaughn – led them to gastronomical glory.
Event organizers marveled at how the winning team was the last of 25 to enter the competition and seemed to be the least organized of the bunch. But the procrastination paid off for the team's backers, which included J.U.B. King and Associates, Spartan Concrete Products, Neon Construction and Grade-All Heavy Equipment.
The team from V.I. Water and Power Authority – not exactly much loved in the territory – came in second place, its members accepting the honor over playful boos from the crowd and lighthearted LEAC jokes from the announcer. Another electricity-focused entity, Glacial Energy, took home third place.
The second-ever King of the Wing Contest nearly quadrupled in size from its first effort. Co-organizer Tony Pearsall said at least 1,500 people came to the event, which raises money for the nonprofit Nana Baby Children's Home. Last year closer to 300 people came.
"It really blew us out of the water this year," Pearsall said.
The number of entrants presenting their own take on the classic bar food also shot up from 13 to 25, and Pearsall said he expects the Nana Baby Children's Home donation will be larger this year as well. The event's two main sponsors, Alpine Securities USVI and the White Bay Group, made it all possible, he added.
Enjoying the festivities was St. Thomas resident Ken Chapa, who could not pick a single favorite wing.
"Oh my gosh," Chapa gushed. "There were several that I enjoyed – that was the best part!"
Throughout the afternoon, friends connected over food, adult beverages and classic party tunes like Sir Mix-a-Lot's "Baby Got Back." Groups of young men feasted not only on chicken, but on the sight of bikini-clad barmaids whose tip jars were filling fast. Many cooks took a break from their hot job to hop into the ocean, while children waited patiently for artist Candice Mills-Rozier to paint their faces.
Chapa, who moved to the territory from Los Angeles 15 years ago, said he is already looking forward to next year's King of the Wing reprise.
"Everybody I see walking by, I know them," Chapa said with a grin. "It's been a really good meeting for everyone."