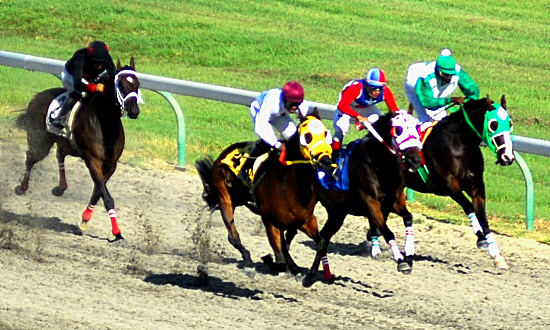 Slevin, rumored to be the most expensive thoroughbred to have ever graced the shores of the U.S. Virgin Islands at some $75,000, is set to make his St. Croix debut on Sunday in TRAXCO's 7-1/2 furlongs seventh and featured race of the day at the Randall "Doc" James Race Track.
Race mavens are abuzz with anticipation to see what this high-class, high-priced thoroughbred can do on the local tracks. Slevin was last seen running in an Allowance Optional Claiming race with a claiming price of $75,000 at Saratoga Race Track in New York where he finished a distant second to the highly acclaimed To Honor and Serve.
Also making a much anticipated return to the track in this race is the former Virgin Islands champion Carse (120). Carse is coming off of a long injury layoff and if in good form will give Slevin all he can handle.
Political Reporter (118) and Groomsman (118) are both expected to compete but should be no match for the top two. Rounding out the field are Puerto Rican Emblem, who will be making one big run from the back of the pack, and the speedy Green Sand, expected to guarantee a respectable pace. If Slevin performs as expected he would have raised the bar to another level which would mean that the other horse owners would have to go shopping if they want to compete in the level one class.
St. Croix's top female thoroughbred, Leggy Blonde, will be putting her three-race winning streak on the line when she faces the best of the rest in the six furlongs fourth race for mares and fillies. Leggy Blonde (120), a cheap import who began her racing career on St. Croix, has beaten the odds against her more pricy competitors and will be strongly favored to extend her winning streak to four in a row on Sunday. Her closest competition should come from Whoshotthesheriff (119). Also entered in the race as Dorado Missile (114), Destiny's Arrival (116), Cristy Nicki (114), Paul's Gift (115), and Sarasota May Bell (116).
The rest of the day's card:
Race 1 Class N-6 7 Furlongs $3,400
1. Gold Sizzler 119
2. Diamond Colony 115
3. Joe boss 117
4. Road Aka Officer 119
5. Deuce's Halo 117
6. Halisharose (Debut) 114
Race 2 Class I-5 C/G 7 Furlongs $3,600
1. Tulsa boy 118
2. Thanks McGiverin 114
3. Skip Ski 118
4. Far Rumor 116
5. According to Jesus 116
Race 3 Class I-5 C/G 7 Furlongs $3,600
1. Halo Boudreaux 116
2. Salty Glider 118
3. RB's Agenda 118
4. Ala Cat 118
5. Big thunder Reflec 116
Race 5 N-3-4-5 C/G –M/F 7 F $4,000
1. Midnight Indictment 117
1A. Gold Finger 117
2. From Emeralds to Ruby's 114
3. Irie Ites 118
4. Dinero 120
5. Papa Birin 117
6. Express To Cali 118
Race 6 Class I-4-5 7 ½ Furlongs $3,700
1. Black Machine 117
2. Full House Project 119
3. San Viron 119
4. Temo's Dream 119
5. Meeses to Pieces (STT) 117
6 Stop Playing (STT) 119
7. A Bit Of Madness 117
Race 8 Class I-5(M/F) 1 Mile $3,500
1. Utuado City 115
2. Pasodefango 119
3. M J Kailahsafe 114
4. YIMC Sword 117
5. Prodefrere 119
6. Pyrite Shelby 116
7. Rasta Queen 117
8. Robadorable (Debut) 119