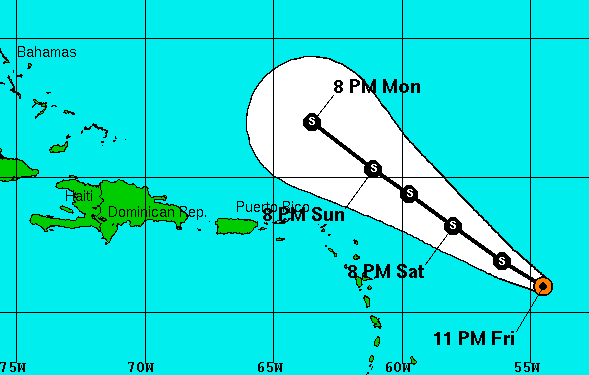 Tropical Storm Ophelia, the 15th named storm of the Atlantic hurricane season, continues on a track that will take it about 200 miles northeast of the northern Virgin Islands Sunday evening as a tropical storm. The track inched a bit closer to the northern Virgin Islands Friday than it was Thursday, but Ernesto Morales, a meteorologist at the National Weather Service in San Juan thinks rain will be the main issue for the territory.
"It's hard to calculate, but about two to four inches," he said of the rainfall amount.
That rain should come late Sunday, Monday and possibly Tuesday as Ophelia's tail sweeps north across the territory, Morales said.
As for the wind, Morales said currently it doesn't look like it will be much of a problem but it depends on whether Ophelia wobbles to the south and closer to the northern Virgin Islands. Ophelia's winds are blowing at 60 mph, and tropical storm force winds extend outward 260 miles mainly to the north and east of the storm's center. Ophelia is moving west northwest at 15 mph.
Morales said that shearing should weaken Ophelia by the time it gets to the area, but how weak remains to be seen.
That said, he urged residents to monitor the weather in case conditions unexpectedly worsen.
As of the 5 p.m. update, Ophelia was centered at 15.5 degrees north latitude and 53.8 degrees west longitude. This puts it about 540 miles east of the Leeward Islands. The barometric pressure stands at 1001 millibars.
And there's something behind Ophelia that bears watching. The National Hurricane Center is giving it a 50 percent chance of developing into something stronger by Sunday.
"It looks like it's taking a similar track to northeast of the region," Morales said.
However, that storm is at least a week away from the region. Philippe is the next name on this year's list followed by Rina, Sean, Tammy, Vince, and Whitney.
Hurricane season officially ends Nov. 30.