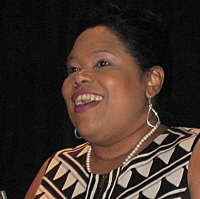 More airline seats than ever before are coming to St. Croix in the next 12 months, presumably filled with tourists arriving to see the island and leave some of their money behind, Tourism Commissioner Beverly Nicholson-Doty said Thursday.
Doty, speaking at the Thursday noon meeting of the Rotary Club of St. Croix, detailed the department's efforts designed specifically to promote tourism to St. Croix.
American Airlines has added a second flight from Miami, which over the next six months, will bring an additional 63,000 seats to the island than flew here last year.
Budget air carrier Jet Blue, which recently announced it will fly into St. Croix and then moved up the start date, will bring an additional 36,000 seats, and a regularly scheduled Danish charter due to start in October will bring another 6,000. That's more than 100,000 additional seats flying in, and the airlines wouldn't have scheduled them if they didn't think they could sell them to tourists eager to visit the big island.
That's a testament to the work the department has done promoting St. Croix. And even when efforts misfired, the department learned from the experience, she said.
A new, three-week ad campaign will begin airing next month on CNN and Headline News, she said. It's aimed to do more than show people how beautiful the islands are, she added.
"I don't just want people to see the ads, I want them to do something," she said.
TV ads can be effective she said, but they're expensive. The three-week campaign will cost $250,000.
To augment that, the department is doing a lot of advertising in magazines, especially food and wine, and scuba magazines, two ready-made audiences for the islands.
The department is also doing online advertising and is getting its message out in some unusual ways. One can be seen at selected airports, where buses and vans wrapped with images from the Virgin Islands have been turning heads.
Nicholson-Doty admitted they don't always get it right the first time. A package last year that offered incentives to entice tourists to come to the island and extend their stay drew only nine takers, she said. Instead of discarding the program, they consulted with members of the tourism industry in the territory, dive operators and hoteliers. They refined the program and offered it again this year. So far they've had more than 300 takers, she said.
More than 300 tourists paying for five nights on the island for rooms, food activities and souvenirs "has a major economic impact on the territory," she said.
The cruise season opens next week, and about 60 ships have been scheduled to stop at St. Croix between October and May, she said, but there are trouble spots on the horizon as well.
"The cruise industry is moving more and more of its equipment during the summer months," she said.
Royal Caribbean recently informed the Department of Tourism that its ship Serenade will be stationed in the Mediterranean next summer instead of making periodic stops at St. Croix.
"It's not just a concern for St. Croix, but for the Virgin Islands and for the Caribbean," Doty said.