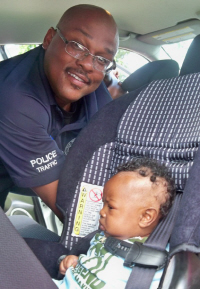 Some 350 infants and toddlers in the V.I. are safer today thanks to complimentary car safety seats from the V.I. Office of Highway Safety (VIOHS).
"The value of a car seat is unlimited," said Sgt. Joseph Platt of the V.I. Police Department traffic investigation bureau. "I have seen crashes where the vehicle rolled over and over several times with a child properly restrained in a car seat unhurt. It is important for parents to realize an adult belt can choke a child or crush their intestines because of where the belt holds and rests on a child."
The seats were given out to mark the annual National Highway Transportation Safety Administration Child Passenger Safety Week. To register for seats, parents and guardians had to bring their child to be fitted for the seat to the VIOHS office on Queen Mary Highway in Estate Diamond.
Recipients also had to bring the child's birth certificate, show proof of auto insurance, car registration and have a valid driver's license. On St. Croix, 150 seats were given on a first-come, first-served basis.
After registering, mothers and grandmothers sat with babies on their laps or walked them, all patiently waiting in the cool office for the installation of the free seat.
Volunteer certified installation technicians and VIOHS staff showed guardians and parents precisely how to install the seats in their own cars. Recipients drove their cars up to designated spots in the yard and parking lot marked with cones, opened all the doors and moved the front seats forward. Technicians, nurses, firemen, policemen and rescue workers, put the babies in the rear-facing seats and strapped them in.
"I think it is wonderful what they are giving here today and doing for people," said Jackie Kambui, grandmother of Amari Patrick, three months old. "The economy is not good here, so giving the seats to the poor is a real blessing."
"Statistics show and have proven that car safety seats save lives," said VIOHS project manager Leslie Dickenson, who added that car crashes are the leading cause of death for those ages 3 to 14. "When new parents get an infant seat they don't realize there are different safety seats for different stages. And infant carriers aren't always safety car seats."
Dickenson said the office has given away more than 500 seats since she started there in 2008.
She said for those who didn't get a seat this week, the office will hold other clinics during the year. She added they have free loaner seats for people just visiting.
"We want to teach them seat belt use at a young age – by starting them out in infant car seats," Platt said. "Kids even tell adults to buckle up."
The clinics were held on St. Thomas on Tuesday and on St. John on Wednesday.
The seats are funded by a federal grant from the National Highway Transportation Safety Administration. The Cosco brand seats retailed from $25 to $80 and fit children up to 100 pounds.