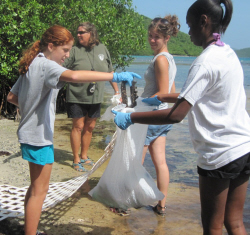 Three dozen students from Gifft Hill School's sixth, seventh and eighth grades fanned out along the shoreline from Annaberg to Mary's Creek on the island's north shore, scouring for trash as the school participated in Coastweeks.
The students obviously got the message about the importance of keeping coasts clean.
"If we keep leaving trash around animals will come and eat it. Sharp things like broken glass will hurt them," Katelyn Vinson, 11, said as she waited at the Francis Bay parking lot for all the students to arrive.
Other students had similar responses when asked what they were doing.
"We're picking up trash," Knowles Donnelly, 11, said, summing it up.
V.I. National Park ranger Laurel Brannick, who takes groups from the island's school on Coastweeks cleanups, said despite worldwide efforts during Coastweeks, trash keeps piling up.
She said that globally, Coastweeks volunteers picked up 7.4 million pounds of trash in 2009. Last year, the number stood at just under 8 million pounds.
"Imagine if we didn't pick it up," she said.
While it's unpleasant for people to see garbage at the beach, trash is sometimes fatal to animals that ingest it. Brannick said that in 2008 a green sea turtle was discovered in St. John waters with a plastic bag coming out of its hind quarters. Despite efforts by veterinarians and others, the turtle died.
Brannick noted that the turtle was only about two, and didn't live until it was about 20 and old enough to reproduce.
As for people who leave trash like dirty diapers and cigarette butts at the beach, Brannick wasn't pleased.
"Smokers are terrible. They think the beach is one giant ashtray," she said.
The coast near Annaberg was pretty clean with the group finding only an occasional can and bottle. They did pick up one large piece of lattice blown ashore from somewhere.
Teacher Kathleen Cooke was one of several Gifft Hill School faculty members who accompanied the students. She said children are never too young to start getting the point about not throwing trash on the ground.
"But this helps send a message," she said of the Coastweeks cleanup.
The students were also going to get a lesson on the island's history from taxi driver Earl Thomas, who drove them from the school to the clean up.
"They should know the history of where they're living," he said, waiting for the students to finish their tasks.