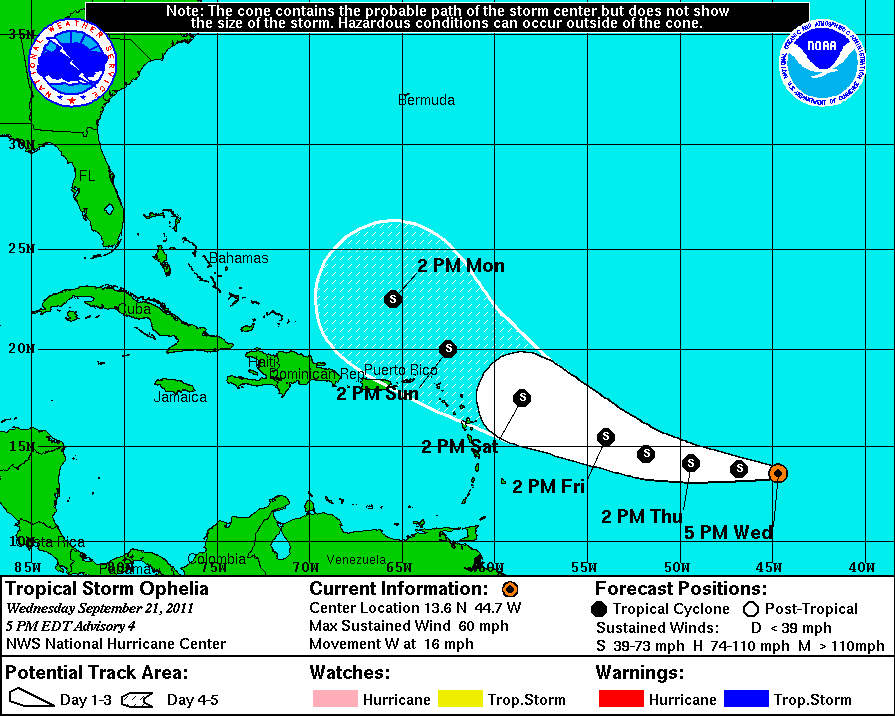 The Virgin Islands is again playing the waiting game with Tropical Storm Ophelia, but meteorologist Ernesto Morales at the National Weather Service in San Juan said Wednesday the current forecast takes Ophelia's center about 200 to 300 miles northeast of the territory Sunday night.
"But the rain will affect us Monday and Tuesday," he said.
He's talking two to four inches of rain, the same as the territory got with Irene and Maria, as the tail of the storm makes its way across the territory.
He said it's not clear how much wind Ophelia will bring to the territory, but the current forecast has Ophelia running into some wind shear before it gets to the region.
"It will be in an environment that's not going to let the system organize," he said.
While the forecast currently looks pretty good for the territory, Morales urged residents to be prepared in case the system unexpectedly comes closer than predicted.
"Continue to monitor the system," he said.
As Ophelia heads toward the territory, a low-pressure system nearing the area should bring thunderstorms and rain after midnight and into Thursday afternoon, Morales said. He said wind gusts could reach 20 to 30 mph with this low-pressure system.
Ophelia got a name at the 11 p.m. update Tuesday and had winds of 45 mph. By the 11 a.m. update Wednesday, the wind speed had picked up to 60 mph. At the 5 p.m. update, the wind speed was still 60 mph, with tropical storm force winds extending outward 230 miles.
Ophelia was located at 13.6 degrees north latitude and 44.7 degrees west longitude or 1,165 miles east of the Leeward Islands. Ophelia is moving west at 16 mph. The barometric pressure stands at 1000 millibars.