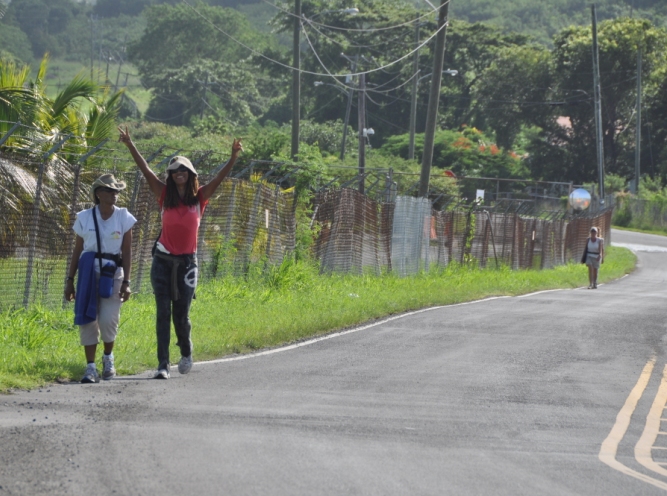 A small group of passionate St. Croix residents walked, drummed and sang for peace on Wednesday to celebrate the third annual All Ah We Peace and Picnic in observance of the U.N.'s International Day of Peace.
The day started bright and early when seven people took off from Fort Christiansvaern at 6 a.m. to walk 16 miles to Fort Frederik in a symbolic gesture to raise awareness for the United Nations event, which was formally recognized in 1982 and is recognized on Sept. 21 around the world.
Organizer Heike Nilgen said that we must find peace within us and thought by promoting and spreading peaceful messages that change could be spread throughout the island.
"I want to raise awareness for peace; the more people who are aware of it, the more will wake up and they will see the truth that we are all one," Nilgen said.
After six hours, with only one person dropping out, the group made it safely to Buddhoe Park. Then, at 5 p.m, a few-dozen people gathered around the pavilion and began beating the drums for peace. Peter Stewart intensified the gathering with Qi Gong, a traditional Chinese healing method comprised of breathing techniques and gentle movements.
Rita Bannister, another organizer who walked and danced during the musical performances, said that she believes strongly in promoting a peaceful method.
"I'm supporting this day because of its significance—so that people here can understand the true beauty of the earth," Bannister said.
Jennie Parrish had never celebrated International Peace Day and decided to walk across the island with Peter Skrivanos because she believed it was a good cause and thought "peace" was a great message.
"It's a nice day, and we can have this connection with other countries to bring about world peace," Parrish said.
A children's band, Pal's Band, felt the same way and brought their musical instruments and powerful voices to the stage. The crowd sang along as the band played the popular peaceful tunes "We are the World" and "One Love."
"We are one people, one planet and we need to respect our earth," another attendee, Mikahyah Curry said.