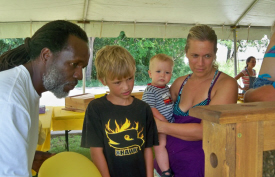 Like bees to pollen, folks traveling the busy Queen Mary Highway Saturday were drawn to the shiny black-and-yellow balloons and tents of the V.I. Department of Agriculture's Virgin Fresh Beekeeping "Buzzaar" on Sunshine Mall's grassy, tree-lined front lawn.
The Buzzaar was held in observance of National Honey Month, celebrated throughout the nation during September to promote awareness of the many diverse uses and benefits of honey.
The Olson family saw the banner promoting the Buzzaar and decided to stop and learn more about bees.
"We have a very curious 10-year-old, so we decided to stop and let him see what beekeeping is about," Karen Olson said. VIDOA Deputy Commissioner Errol Chichester explained the workings of the hive to young Anders Olson as his mom looked on.
Second-generation beekeeper Roniel Allembert, also known as "The Honey Man" and his 10 -year-old son Roniel, also actively involved in beekeeping, had honey and bee pollen for sale. Allembert Sr., said he would like to see more young people getting into beekeeping.
Wanda Wright, beekeeper at the W-RIGHT Apiary, gave out samples of a delicious, sweet-tasting mead – a kind of wine made from honey that many consider the oldest alcoholic beverage – made from the blossoms on trees at her home. "This type of event is the perfect opportunity to educate the public and stimulate an interest to go out and do beekeeping," Wright said.
Beekeeper Sonia Maynard Liburd gave out bee literature and sold honey-coated snacks of popcorn, dried banana, raisins and cranberries.
Toni Downs, who recently moved to St. Croix, was selling beeswax candles, pretty soaps, balms and body butter, all made by her at the Honey House. She also had some interesting encaustic paintings – an ancient method that uses dyed beeswax on heavy paper.
The Virgin Fresh Beekeeping Project was funded by a USDA Agricultural Marketing Service grant award to the Department of Agriculture. Agriculture Commissioner Louis E. Petersen Jr., said the beekeeping project is related to the Fruit Orchard and Plot Establishment Program.
"In order to establish good crops of fruit we need more bees for germination," Petersen said at the Buzzaar Saturday. The project has helped to train more than 100 new beekeepers across the territory and encouraged the formation of a beekeepers' association.
Chichester talked to attendees about the educational displays and exhibits and what's available in tools and equipment. The observation hive with bees behind glass attracted a lot of attention.
"It's interesting to see how hard they are working in the hive," said Michael Louis, 7. "It's amazing."
Chichester also had a variety of honey and pollen for purchase from his apiary, Virgin Islands Honey.
Project partners include the UVI Cooperative Extension Service, the VI Department of Tourism, the Virgin Islands Small Business Development Center and Virgin Islands beekeepers.
The Buzzaar will be held on St. Thomas Saturday from 10 a.m. until 4 p.m. near the Center Court at the Tutu Park Mall.