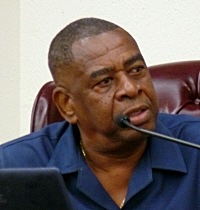 U.S. Virgin Islanders who build or retrofit homes to be easily visitable by persons with limited mobility will be eligible for a 20 percent reduction in their property tax bills for 10 years if a bill moving through the V.I. Legislature becomes law.
The bill, sent out of the Housing and Labor Committee Friday, would create an entirely voluntary incentive program rewarding owners who meet nationally accepted standards of "visitability," meaning a person with limited mobility, whether from a disability or age, could easily visit and spend time there.
To meet the standards set in the bill, a visitable home must have at least one entrance with zero steps; interior doors with at least 32 inches of clear passage space and a restroom on the first floor The bathroom must have sufficient room for an individual in a wheelchair to maneuver and use bathroom fixtures, and have outlets and environmental controls accessible to those with disabilities.
Five senators sponsored the bill.
Representatives of the American Association of Retired Persons (AARP), local disabilities rights advocates and the head of building permitting in the Department of Planning and Natural Resources all testified in support of the bill, arguing it would not only help those with disabilities, but everyone who may ever have an elderly or disabled friend or relative visit. It also makes it much easier for the elderly to continue living independently in their own home, argued Mark Vinzant, spokesman for the Virgin Islands Coalition for Visitability, and Denyce Singleton, state director of AARP Virgin Islands.
"People with disabilities and our elders wish to remain in the familiarity of their homes rather than move to an impersonal institution," said Vinzant. "The cost of retrofitting a home for mobility impaired access is considerably greater than initial planing for visitability before construction. In home care has proven to be comfortable, comforting and cost effective in comparison to institutional care," he said. The changes increase the value of a home by accommodating more buyers, relatives and guests, he said — a point Singleton also stressed.
Phillip Smith, territorial director of DPNR's Division of Building Permits, testified he saw no major obstacle to implementing the program, but DPNR would have to study the question to determine if, given recent budget cutbacks, more funding or personnel would be needed.
Voting to send the bill on for consideration by the Rules and Judiciary Committee were Sens. Alicia "Chucky" Hansen, Louis Hill, Neville James, Terrence "Positive" Nelson, Usie Richards, Alvin Williams and Celestino White, the committee chairman. No one voted no and no one was absent at the time of the vote. After the vote, White asked Singleton for details concerning the provisions she felt should be removed and said an amendment would be offered when the bill is discussed in the Rules Committee.
The committee also sent forward a bill sponsored by White to set aside 30 acres of government-owned land on Water Island for sale to U.S. armed services veterans. V.I. Housing Finance Authority Executive Director Adrienne Williams testified in support of the bill's goal of providing housing opportunities for veterans, but raised some concerns about its practicality.
While the VIHFA supports the initiative, the need to import materials to Water Island will likely make construction of infrastructure more expensive and funding wold have to be found for roads, drainage and sewer systems, she said. Also, despite outreach efforts, VIHFA has not found many veterans seeking affordable housing, so she recommended the lots be held for veterans for a certain amount of time, then if there is a low response, open it up to other low- to moderate-income families.
Voting to send the bill on to Rules were: Hansen, Hill, Williams and White. Absent were James, Nelson and Richards.
The committee voted to table a bill sponsored by Sens. Hill and Shawn-Michael Malone that would make the third Friday in January the V.I. Community Day of Service in honor of Martin Luther King Jr. and require public schools and the University of the Virgin Islands to organize events and activities commemorating the day.
Nelson expressed concern the change would dilute the meaning of the day by giving it a new name, pointing to how Nov. 1 is Liberty Day, D. Hamilton Jackson Day and All Saints Day in the territory. Several other senators subsequently voiced similar concerns and ultimately the measure was voted down unanimously.
Also tabled Friday were bills to:
reduce the time central staff of the Legislature must be employed before they change from being eligible to be terminated at will to only being eligible for termination for cause from the current four years to the six-month time frame that other government employees experience;
create a new commission to determine the salaries and other compensation of legislators, judges and other high government officials;
eliminate the requirement that government employees take a leave of absence while they run for elective office, making the leave optional.