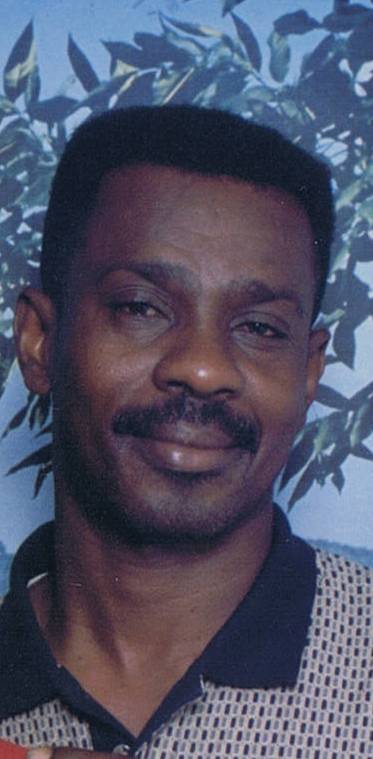 Joseph Alphonso Serrant, better known as "Phonso" or "Joe," died at 57 in Huntsville, Alabama. He was born on St. Kitts.
He is survived by mother,
Allison Pearl Serrant (Pearly); father, Felix Llewellyn Serrant (Lemmy); significant other, Alma Robinson; son, Nathaniel Serrant; brothers: Vincent, Curtney, Kelvin Sr. and Calinston Serrant Sr.; sisters: Yvette Serrant Boynes, Donna Serrant Thomas, Hillary Serrant Turnbull, Cheryl and Carline Serrant; aunts: Erselyn Jones in Nevis, Merle Rogers in Canada, Dorothy Serrant in Holand, Ernestine Flowers in New York, Ruby Degrass and Ruth Cole in the U.K.; uncles: Calvert, William and Eric Rogers on St. Kitts, Vaughn Serrant in the U.K., Walter Serrant in North Carolina, Lawren Williams on St. Croix and Paster Ralph Rogers in Miami; brothers-in-law: Anthon "Tony" Boynes on St. Thomas and Berthton "Buchie" Turnbull in Georgia; and sisters-in-law: Aretha Serrant in Alabama and Julie Serrant in Atlanta.
He is also survived by nieces: Celeste Walters, Antonette Boynes, Tiffany Thomas, Chrina, Kelesha, Julysha and Nicole Serrant, Danisha Donovan, Cecily, Cherise and Cherile Fahie; nephews: Tighree and Theious Thomas, Lamar Turnbull, Curdell, Jaurice and Jamaurion Serrant, Dariel Donovan, Cecil Jr. and Camoui Fahie, Jureyl Sr., Kureyl, Kelvin Jr., Calinston Jr., Caleem and Kamaria Serrant and Sean Connor Jr.; special friends: Lewis Smith, Joan Rawlins, Patrick Rogers and Zenroy Athil, Wayne Samuel, Dr. Beard, Milton and Dorothy Smith, Pansy Marsham and Peter Francis; as well as many other relatives and friends including Pastor Calvin Mills.
There will be a first viewing held from 5-7 p.m. on Friday, Sept. 23, at Davis Funeral Home Chapel. A second viewing will be held at 9 a.m. followed by a funeral service at 10 a.m. on Saturday, Sept. 24, at Wesley Methodist Church. Interment will be at Eastern Cemetery.
All arrangements are by Davis Funeral Home, 774-1464.