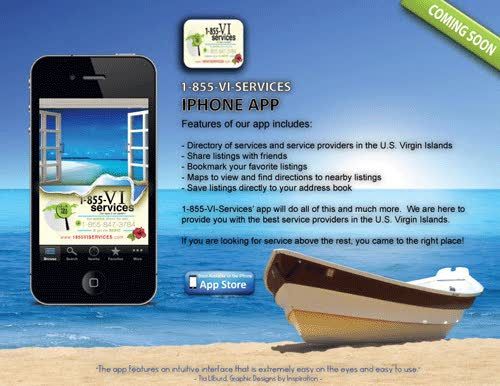 From coupons to GPS coordinates, both tourists and local residents can find all the information they need about V.I. businesses through a new iPhone app developed and marketed by 1-855-VI-SERVICES.
The online business, founded by local entrepreneurs Bruce Flamon, Randy R. Liburd, David Griffin and Olando Donadelle, was created to improve the level of customer service offered by businesses in the territory. Visitors to the company's website are given access to a directory of local businesses offering different services and are able to comment on their performance.
A variety of local bars, restaurants, dentists, carpenters, plumbers, automobile agencies, and furniture stores are included in the directory. Flamon said two local malls, Royal Dane Mall and Lockhart Gardens, have also signed up.
"When they use a service—say one of our featured restaurants, plumbers or dentists—the customer would report back to us on the level of service they receive," Flamon said. "If they submit a positive comment, we would list that on the website, and if it's negative, we'll contact that particular business and let them know that the customer was unhappy with their service."
The company would then see what could be done to "make the customer happy," Flamon said.
"We don't just want to rate you, we want to change you," Flamon said. "So with the negative comments, we let those businesses know that their service is below our standards."
Greater access to the site and its services will be gained through the app, which Flamon said was downloaded 60 to 70 times in the first few days following its release.
"About 20 of those people were from Canada, so we know people are looking at us," he said.
The app is free for iPhone users and also features classified and coupon sections. One featured business, Plaza Extra Supermarket, has made its weekly special coupons available through the app; and once downloaded, they can be scanned from the phone right at the checkout counter. Businesses without scanners are also able to punch in the bar code, Flamon said.
"The classified section is good if someone wants to buy a car or rent an apartment," Flamon said. Users also have access to a news feed from TV2, and Flamon said the company is looking for local newspapers to partner with so customers can also access that publication straight from the phone.
Another bonus is the locator feature, which gives customers access to a local map that pinpoints their GPS coordinates within the territory at any given time and gives them directions to any of the featured businesses on the site.
"In three to four weeks, we'll also have an app for the Android, and that way, we'll have the entire iPhone market and Sprint network covered," Flamon said. The Android app is also free. Future ventures also include a partnership with the cruise ships, so crew members can have fast access to the services they need while on the ground.
Flamon said they are also going to have an event blog, so any upcoming community events can be posted free of charge.
Customers without an iPhone can also call 1-855-VI-SERVICES and have access to the business directory from the automated system.