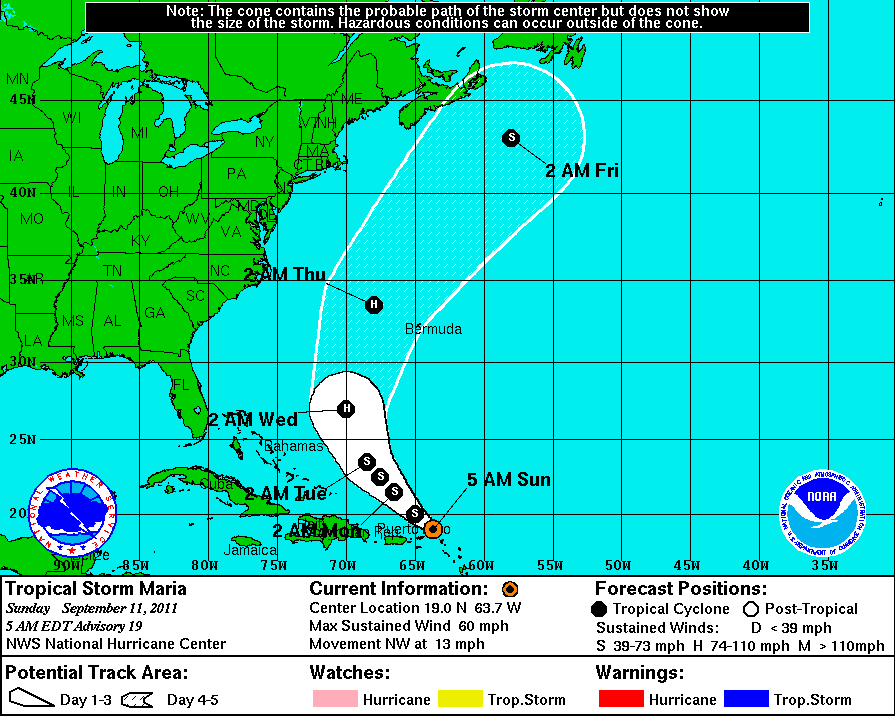 The territory is getting off easy with Tropical Storm Maria. Saturday the storm was falling apart. By 5 a.m. Sunday, the winds were up to 60 mph with higher gusts. What saved the territory was Maria's continually changing track that eventually shifted it away from the territory.
"The water was warm and the upper level conditions got a little better. It was able to get more organized in the last 12 hours," Brian Seeley, a meteorologist at the National Weather Service in San Juan, said at 6:30 a.m. as he explained how Maria unexpectedly got stronger overnight.
By Sunday morning, the center of Maria's closest point to the territory was at 7 a.m. when the storm was 73 miles to the northeast of St. John. With the winds mainly extending out about 200 miles to the north and east of the center, the open ocean was getting pummeled.
"We were lucky it took this track," he said.
Sunday is going to be wet, Seeley said.
"The outer fringe bands are coming across the territory," Seeley said.
He expects the territory to get light rain Sunday morning with the rain increasing in intensity Sunday afternoon through Monday morning as the tail of the tropical storm makes its way across the territory. He said the prediction calls for two to four inches of rain for the territory with eight inches in isolated areas. A flash flood watch remains in place until 8 a.m. Monday but Seeley said that may have to be extended.
Seeley expects it to be wet across the territory through Wednesday. It should be drier later Wednesday, but another wave at low latitude just leaving Africa is expected bring more moisture to the area Thursday. Seely predicted.
Wind through Monday morning should be in to 10 to 20 mph range with gusts of 25 to 30 mph, Seeley said.
According to Seeley, Cyril E. King Airport on St. Thomas recorded a wind gust of 48 mph around midnight.
As of the 5 a.m. update from the National Hurricane Center, Maria's center was at 19 degrees north latitude and 63.7 degrees west longitude. The barometric pressure stands at 1004 millibars.
Maria is moving to the northwest and far away from the territory at 20 mph.
Maria was the third storm to impact the territory this hurricane season. Emily and Irene visited earlier.