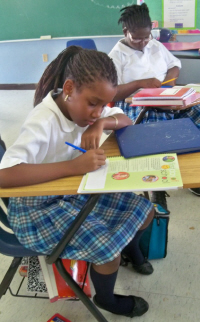 Fifth and sixth grade public school students got their own Coole School Planners Thursday and Friday. Four St. Croix Rotary Clubs, Innovative and the V.I. National Guard partnered giving the planners to students as a useful tool for planning and staying organized for a successful year.
"I am so glad we have the planner again this year," said Beverly Peele, advanced class teacher at Claude O. Markoe Elementary School, speaking as Rotarians handed out the planners. "It is now easier for the students to stay organized and see when they have assignments due. I love it."
Kent Moorehead, principal and past president of the Rotary Club of St. Croix West, said the students have been getting the planners for the past five years.
"It is extremely important that we teach the children organization in their daily life," Moorehead said as he helped hand out planners.
Jim Oliver, Rotary member and Innovative representative, said Innovative purchased 1,300 planners and worked with VING and Rotarians from Rotary Club of St. Croix, Rotary Club of St. Croix Harbor Side, Rotary Club of St. Croix West, and Rotary Club St. Croix Mid Isle on distribution.
Oliver, a former teacher, said the planner is also useful to facilitate communication between teachers, parents, and students. "With this planner, parents see their children's assignments, and when they are due," Oliver said. He added teachers may write notes in them to parents on good or bad conduct of their children.
Sgt. 1st Class Valerie Laurent, president-elect of Rotary West , said VING Counterdrug Task Force sponsors the Safe & Drug Free Coole School Program which endorses the planners as a companion tool.
The planners were given out at nine schools. Pearl B. Larsen students will get theirs in an assembly with government and Innovative representatives and Rotarians in two weeks.