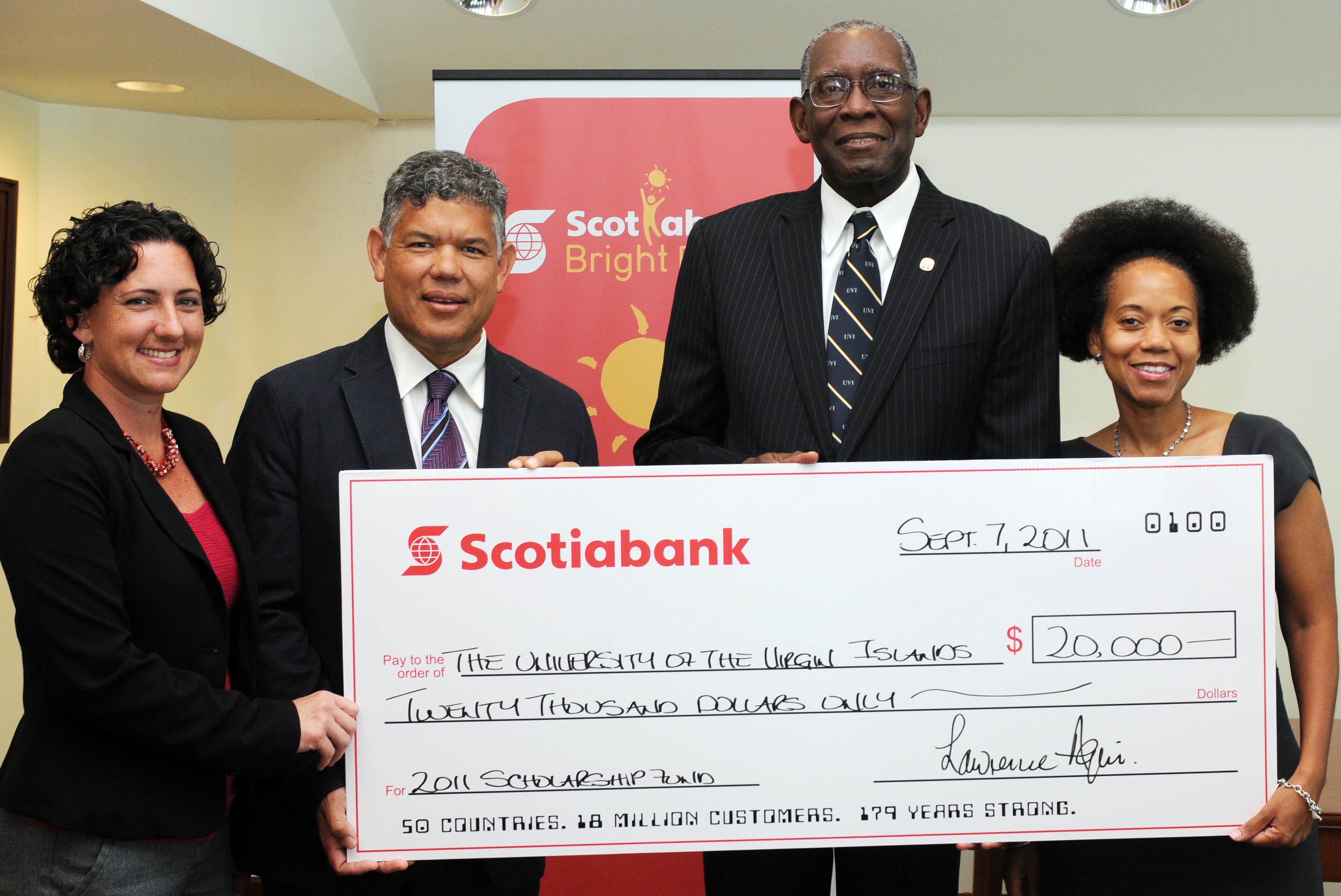 For Scotiabank their latest contribution marks the continuation of a support program that began locally in 1986. To date, it has provided $245,000 in scholarship and other support for UVI students.
UVI graduate Shareece Cannonier's words and image came through the Web-based video call loud and clear. "If I hadn't had this scholarship I'm not sure how I would have made it through my final three years," Cannonier said. "It really, really helped me. And I will be forever grateful." Cannonier, who graduated in 2010, was one of the most recent recipients of scholarship support provided by Scotiabank. She shared those words during the bank's presentation of a check for $20,000 to the University of the Virgin Islands Scholarship Fund on Wednesday, Sept. 7, at UVI's Administration and Conference Center on St. Thomas.
Cannonier, who is now enrolled in UVI's Master of Arts in Psychology program, said the receipt of a Scotiabank scholarship was "a tremendous blessing for me, as well as my family. I can honestly say that UVI has prepared me for my future endeavors." One of her goals in life is to earn a Ph.D. in counseling psychology "and to return to St. Croix to help our troubled, at-risk youth," she said.
On hand to make the donation was Scotiabank Vice President and Country Manager Lawrence Aqui. "It's a real pleasure and great opportunity for Scotiabank to be here to offer this donation," Aqui said. "Scotiabank is committed to supporting the communities in which we live and work through our global philanthropic program – Scotiabank Bright Future. Today we are honored to pledge another $20,000 towards scholarships for the 2011-2012 academic year."
UVI President Dr. David Hall accepted the gift "on behalf of the entire university community – faculty, staff and especially our students."
"We want to thank you for your generosity, because it makes a difference," Dr. Hall said. "It made a difference in the past and will make even more of a difference now … as the territory is going through some tight fiscal times. It means that students have a harder challenge getting into school and graduating. When they receive scholarships and financial support, it really does make a difference. Scotiabank is a difference maker."
Dr. Hall encouraged others in the business community to follow the bank's lead. "One of the things Scotiabank is known for – and the banking industry is known for – is making good investments," Dr. Hall said. "I think this is evidence that UVI is a good investment for this community and for the business community. We are deeply thankful for your generosity and look forward to continuing the relationship."
"UVI's ongoing relationship with Scotiabank demonstrates how local businesses can contribute to the growth of this territory," said UVI's Vice President of Institutional Advancement Dionne V. Jackson. "We at UVI welcome such investments and are working to establish more partnerships to help benefit our students. Alumna Cannonier's comments illustrate just how critical financial support is for many of our students. It is often the deciding factor for those considering higher education."
Cannonier and Howard Forbes were the most recent UVI graduates to receive the bank's scholarship awards. The scholarship recipients for the 2011-12 academic year are expected to be announced in late October.
Scotiabank has served the U.S. Virgin Islands since 1963. It now offers a full range of retail banking and selected commercial services through nine branches in the territory.