Nothing brightens an area better than a fresh coat of paint, and The Manor School was indeed brighter this week when students returned for fall classes. The entire school had been painted inside and out by two special groups of Good Samaritans. Getting the ball rolling was recent Manor graduate, Remah Asad, who dreamed of changing her alma mater to its logo colors and gifting a new exterior paint job to the school from the Class of 2011. She got approval from Headmistress Judith Gadd, and with the help of fellow grads Link Edwin, Edima Hall, Alex Williams and upcoming seniors Jessica Nolan, Steffen Smith and Alex Soto, the students started the daunting task of painting four large buildings.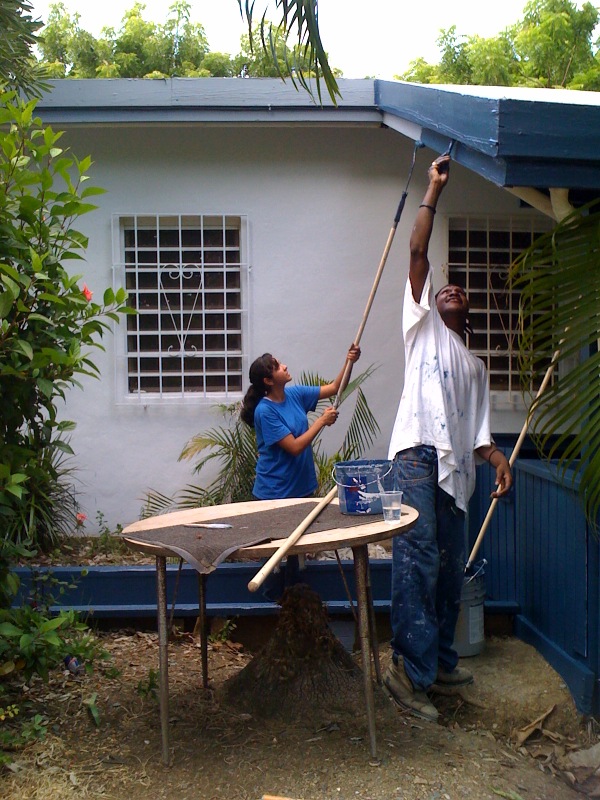 While touring the school with his son, Wulston Paul was amazed at the work the students had done and volunteered the company where he is employed, Industrial Services Unlimited Inc. (ISU), to finish the job. Project manager Charlie Love with the help of superintendents Aram Nichols and Mr. Paul supervised over 50 employees of ISU who brought paint, equipment and family members to paint on several weekends in the month of August. Foremen Costillo, OB 1, Winston James and Neville Williams were pleased with the work that was done. D.J. Dirty Laundry came along to entertain the troops with his music. The company left The Manor School with a fresh exterior and interior face, and its headmistress, teachers and students extremely thankful and impressed.
The project is one of many that ISU takes on every year and is a wonderful example of how St. Croix works together in community action, especially in these tough economic times. Students at Manor are studying the concept of potentiality this year. Our student crew and the employees of ISU certainly serve as a good example of the results of community potential with this project. The members of the Manor family, present and past, thank them all.