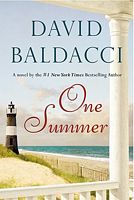 Here is where you will find what's new at St. Thomas's well-known Dockside Bookshop at Havensight Mall. Every week you will find new titles to peruse. Look for updates of our "picks" for fiction and non-fiction.
"The Complete Bookshop"
Mon., Wed., Thurs, Sat. – 9 a.m. to 5 p.m.
Tues. and Fri. – 9 a.m. to 6 p.m.
Sun. 11 a.m. to 3 p.m.
774-4937
Dr. Sandra O. Harrigan will be signing copies of her book "Remembering Family: A Crucian Soujourn" from 10 a.m. to noon on Saturday, Aug. 27, at Dockside Books.
BOOK PICKS
Fiction
"One Summer"
David Baldacci
$16.00
"If you know David Baldacci only as a thriller writer, you need to read more of David Baldacci. In One Summer, he writes as beautifully and insightfully about the pathways of the human heart as he does about the corridors of power. The twists and turns in this hugely emotional and unforgettable novel come from the resilience of one father's spirit and the revelation of the love that binds a family, in this world and even beyond. If you read one book this summer, make it One Summer." (Lisa Scottoline, author of Save Me)
Hardcover Nonfiction
"1493"
Charles Mann
$30.50
"Voltaire would have loved Charles C. Mann's outstanding new book, 1493. In more than 500 lively pages, it not only explains the chain of events that produced those candied fruits, nuts and gardens, but also weaves their stories together into a convincing explanation of why our world is the way it is . . . Mann has managed the difficult trick of telling a complicated story in engaging and clear prose while refusing to reduce its ambiguities to slogans. He is not a professional historian, but most professionals could learn a lot from the deft way he does this . . . Most impressive of all, he manages to turn plants, germs, insects and excrement into the lead actors in his drama while still parading before us an unforgettable cast of human characters. He makes even the most unpromising-sounding subjects fascinating. I, for one, will never look at a piece of rubber in quite the same way now . . . The Columbian Exchange has shaped everything about the modern world. It brought us the plants we tend in our gardens and the pests that eat them. And as it accelerates in the 21st century, it may take both away again. If you want to understand why, read 1493." -Ian Morris, The New York Times Book Review
Children's Fiction
"Beatrix Potter Complete Tales"
Warne
$40.00
This complete and unabridged collection contains all 23 of Beatrix Potter's tales in one deluxe volume with all their original illustrations. A perfect gift to introduce children to the world of Beatrix Potter, the Complete Tales is also an ideal christening present; traditional and timeless, it's a classic for any nursery shelf. Discover Beatrix's most famous character, Peter Rabbit, and meet his family and friends. There are so many exciting adventures to enjoy, told with such humor and wit it's difficult to believe that Beatrix Potter wrote many of them over 100 years ago. Children will love hearing what happens to naughty Peter Rabbit when he disobeys his mother and ventures into Mr. McGregor's vegetable garden. They'll delight in discovering the fate of Tom Kitten who, like so many young children, finds it just impossible to keep his clothes neat and clean! The tales are arranged in the order in which they were first published to enable them to be read in proper sequence, as several are linked together by events and characters.
Nonfiction – Cooking and Wine
"Hugh Johnsons Pocket Wine Book 2012"
Hugh Johnson
$14.99
The original – and the best- pocket guide to wine. Now in its 35th edition and with over 11 million copies sold worldwide, Hugh Johnson's Pocket Wine Book 2012 is still the number one pocket wine guide that appeals to both wine lovers and professionals. As always the pocket wine book is packed with invaluable features and for 2012 it has been completely revised and updated, with fresh introductions and new sidebar features for every country. This year's edition boasts up-to-date news on more than 6,000 wines, growers and regions plus invaluable vintage information from expert contributors around the world. Whether you're purchasing a bottle at a shop, ordering wine in a restaurant, stocking a cellar, or investing in a vintage, Hugh Johnson's Pocket Wine Book 2012 is the one resource you cannot do without.
"Pies and Tarts"
Martha Stewart
$24.99
Filled with seasonal fruit, piled high with billowy meringue, or topped with buttery streusel, pies and tarts are comforting and foolproof. In
Martha Stewart'

s New Pies and Tarts
, the editors of
Martha Stewart Living
include 150 recipes: Some are savory, some are sweet; some are simple enough for a weeknight, while others are fancy enough for special events.
Throughout, readers will find plenty of fillings and crusts, basics, and techniques for creating flavors and textures for every taste—from down-home classics that come together easily with fresh berries and stone fruits to modern tarts layered with chocolate ganache or finished with a wine glaze. There are also individual hand pies, savory comforts like quiche and potpie, holiday-worthy desserts for nearly every occasion, and much more.
Hardcover Nonfiction – Health and Fitness
"The 4 Hour Body"
Timothy Ferris
$27.00
The 4-Hour Body is the result of an obsessive quest, spanning more than a decade, to hack the human body. It contains the collective wisdom of hundreds of elite athletes, dozens of MDs, and thousands of hours of jaw-dropping personal experimentation. From Olympic training centers to black-market laboratories, from Silicon Valley to South Africa, Tim Ferriss, the No. 1 New York Times bestselling author of The 4-Hour Workweek, fixated on one life-changing question:
For all things physical, what are the tiniest changes that produce the biggest results?
Thousands of tests later, this book contain the answers for both men and women. From the gym to the bedroom, it's all here, and it all works.
TOP SELLERS
Fiction
THE HELP–$7.99
by Kathryn Stockett
THREE STATIONS–$7.99
by Martin Cruz Smith
RESCUE ME–$7.99
by Anita Shreve
WORTH DYING FOR–$7.99
by Lee Child
STAR ISLAND–$7.99