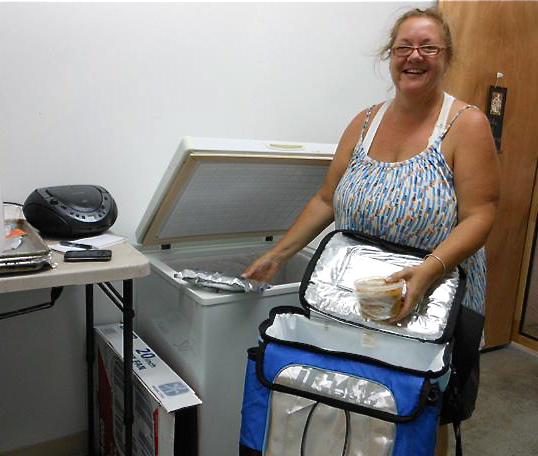 When Kat Cashion leaves her house each morning, she stops to pick a hibiscus. When she reaches her shop, the first thing she does is plop the vibrant flower in a little vase to enjoy. It's a key to her character.
Cashion is outgoing, eager to share her background. It's a weekday afternoon and she has just finished her route as the Wandering Soup Kitchen chef, delivering homemade soups and more to businesses from UVI to RLS hospital and Havensight. It's a one-woman operation, except for Thursdays when she hires a driver to service the East End businesses.
An outgoing, cheerful and "uncheflike" personality, Cashion is eager to share her experience.
First off, she said of moving here from Northern California in 2001, "My only regret is I didn't do it sooner."
She comes from a relatively large family, with three brothers. As for home training, Cashion says. "My mom had no interest in cooking, but I always did. I appropriated her old Betty Crocker cookbook and began experimenting when I was about 10 years old."
And she hasn't stopped yet.
"It's funny," she says, "but I'd always had this notion about opening a taco stand on a beach."
She has traveled an eclectic path, likely never thinking her Cordon Bleu training at the California Culinary Academy in San Francisco would lead to running a soup kitchen in the Caribbean.
Before moving, Cashion sent out resumes, winding up at Gourmet Gallery on St. Thomas. Since then, she has held a number of restaurant and catering jobs, from Frenchtown's Hook, Line and Sinker to the North Side Bistro to downtown.
After leaving her last job, Cashion had an inspiration. No, not the taco stand.
"At my last job, I made soups that people loved," she says. "In fact, customers would come around to see what the soup of the day would be, and I started giving out little soup shots."
That very weekend, she says, "I went sailing, came home, and made a big batch of pumpkin soup. I packed it up, chilled it, put it in a cooler and took off on Monday morning. I went to CYOA, the yacht broker next to Hook Line and Sinker in Frenchtown, and to some of my downtown customers, and I sold everything."
That was a little more than one year ago, August 2010.
"In fact," Cashion says, "I was sailing this past weekend and I just realized it's been a year!'
She moved into her Sub Base kitchen the first of this year.
"Whew, what a relief," she says. "I' d been cooking at home, and that's 30 steps to haul all everything up and down. Lots of work."
In her small shop, she has one refrigerator/freezer, a glassed in cooler, a deep freeze, two stoves, and assorted tables and shelving. She's assembled the kitchen with more than a little help from her friends.
"People just came out of the woodwork to help," she says. "They were so generous. It was amazing."
Cashion hauls out a pot of chicken tortilla soup. Usually this is a broth with tortilla strips on top. Not this one.
"I grind the tortillas in a food processor," she says. "It gives a really great taste and texture."
Filled with generous chunks of chicken, it comes with grated cheddar cheese and sour cream, and, of course, homemade crostini, which come with all the soups.
Cashion has an assembly line of sorts, which she displays. Taking a portable cooler from the back room, she places it on an office chair and rolls it across the kitchen picking up a soup from the cooler and to the deep freeze for an ice pack.
"See?" she says, "It works just fine."
She makes, chills, packages and refrigerates one, two or sometimes three soups daily.
They always include a vegan or vegetarian
Cashion makes the soups in small batches to keep everything fresh – "never a steam table – and to maintain variety. That variety knows no bounds, a Reuben soup with rye crostini, sage scented roasted chicken and mushroom, split pea with smoked turkey, Moroccan spiced chickpea, red beans and dirty rice, or chilled Mediterranean yogurt cucumber olive, to name a few.
A while ago, Cashion added wraps and a small salad to her menu. The wraps feature a host of chicken salads with cranberries, nuts, a blueberry lemon mix, spicy chipotle, or maybe a tuna salad or a BLT.
The soups are $7 for a 16 oz container, wraps $8, and the small salads $4. Occasionally the soup may be $8 if it has special ingredients, but she always notes that in her daily e-mail.
Cashion recently opened a Wandering Soup Kitchen Facebook page where she features the day's menu. By 8 a.m. Monday through Friday, Cashion posts her daily menu by e-mail
and on Facebook. Right now her clients are businesses only.
Those interested can e-mail TheWanderingSoupKitchen@gmail.com to get on the daily mailing list.
Her phone is 998-0821. Orders should be in no later than 10:30 a.m. for that day's delivery, but Cashion says, "If it's after 10:30, people can call or e-mail me, anyhow. I always carry extra soups. I'll let them know what I have, and when to expect me."
And that, in a word, is one secret to running a friendly Caribbean soup kitchen.