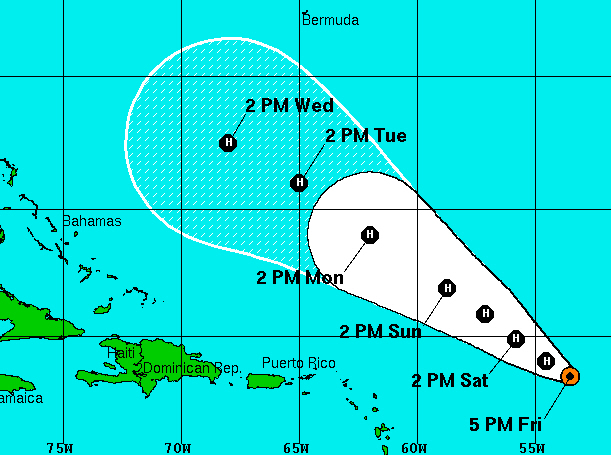 Katia is again a hurricane, now at about the same latitude as the Virgin Islands, and poised to start sending big swells reaching seven to nine feet toward the Virgin Islands Saturday afternoon.
"Rip currents are going to be a major hazard, but the swells are going to be pretty big," Ernesto Morales, a meteorologist at the National Weather Service in San Juan, said.
The swells are going to last until the middle of next week as Katia passes by, Morales said. At its closest point, which will be around 2 p.m. Sunday, it's expected to pass about 400 miles to the northeast of the northern Virgin Islands.
As of the 5 p.m. update from the National Hurricane Center, Katia had a wind speed of 75 mph. Hurricane force winds extend out 35 miles, with tropical storm force winds extending 175 miles outward from the center.
Katia is moving northwest at 12 mph. The barometric pressure stands at 989 millibars.
Katia is centered at 18.4 degrees north latitude and 53.5 degrees west longitude. This puts it about 603 miles east of the northern Leeward Islands.
While it's far too soon to predict Katia's exact track once it leaves the region, Morales said it currently looks like the hurricane will stay off shore but brush the East Coast from South Carolina to New York.
Morales reminded residents that they should continue to watch the weather because tropical waves are moving off the coast of Africa at a steady rate. However, he said that according to the computer models, the one that just exited Africa doesn't show much chance of developing.